To meet our global targets under the internationally binding Paris Agreement, and New Zealand's own legislated emissions reduction targets, faster and greater progress is required to reduce the harmful greenhouse gas emissions in our atmosphere.
Businesses account for 40% of New Zealand's energy-related emissions and must play their part. For large-energy-using industrial businesses the good news is much of the technology and processes we need to solve this challenge are now available. The collective impact of small and medium-sized businesses (SMEs) also matters, and there are plenty of ways for businesses of this size to reduce their emissions too.
Businesses, both small and large, face a number of real and perceived barriers to taking climate action. However, the evidence shows that there are substantial advantages – many of which are hidden – to acting now.
The co-benefits of decarbonisation
Switching away from fossil fuels can have many benefits for business, beyond reducing greenhouse gas emissions.
Cost savings – reduce operating costs through energy efficiency and fuel switching.
Social license – improve your reputation with socially responsible consumers and investors.
Brand value – tap into new markets, spark innovation and create business opportunities.
Employee engagement – attract and retain talent.
Compliance – stay ahead of regulation for climate change mitigation.
Cost savings in the medium to long term
Businesses that act on climate change are reaping financial benefit. A Sustainable Value Study undertaken by EY challenges the idea that there is a trade-off between financial and non-financial impacts of climate change investments. It found that comprehensive transformational approaches to sustainability return more value than businesses expected, across five key areas: financial, customer, employee, societal and planetary.
In fact, 69% of survey respondents reported higher financial value than expected from their climate initiatives – including from revenue growth and earnings. A reason for this is that climate change actions are also offering returns across customer and employee value, which in turn contributes to financial goals. Further, companies taking the largest steps against climate change are reporting the greatest financial returns.
How can slowing climate change accelerate your financial performance | EY(external link)
The sooner the switch, the greater the reward
The earlier businesses make changes, the faster potential cost-savings can be unlocked. By switching to low emissions solutions soon, businesses can protect themselves from potential fossil fuel supply and cost uncertainty. In addition, by acting quickly, businesses may be able to get ahead of the pack for popular technologies – particularly if there is competition for limited resources, such as boiler fabrication services.
By making the move early, we stand to save more in terms of both operational costs, and emissions.
Future carbon costs
All businesses that use energy incur a financial cost for the related carbon emissions. This is determined by New Zealand's Emissions Trading Scheme which is the Government's main tool for reducing greenhouse gas emissions. While only some businesses are mandated to surrender NZ ETS units, the cost is generally passed onto other businesses and customers further downstream, meaning that everyone faces the NZ ETS cost one way or another.
New Zealand Emissions Trading Scheme | Ministry for the Environment(external link)
The Emissions Trading Scheme Explained | Gen Less(external link)
NZ ETS prices have increased over the past few years, and there is good reason to expect them to continue rising over the long-term. While the trajectory of NZ ETS prices is uncertain (particularly over the short-term), most of the scenarios used by policy makers assume New Zealand's transition to a low-emissions economy will require NZ ETS prices to continue rising over the long-term.
For example, both the Climate Change Commission's Demonstration Pathway, and the EECA-Business Energy Council's Kea Energy Scenario, assume that NZ ETS prices will more than double between now and 2050. This means businesses that opt to decarbonise can mitigate their exposure against these rising prices.
The impact of NZ ETS prices on fuel costs
The below graph shows different types of fuels and their cost – including the way this is impacted by NZ ETS prices.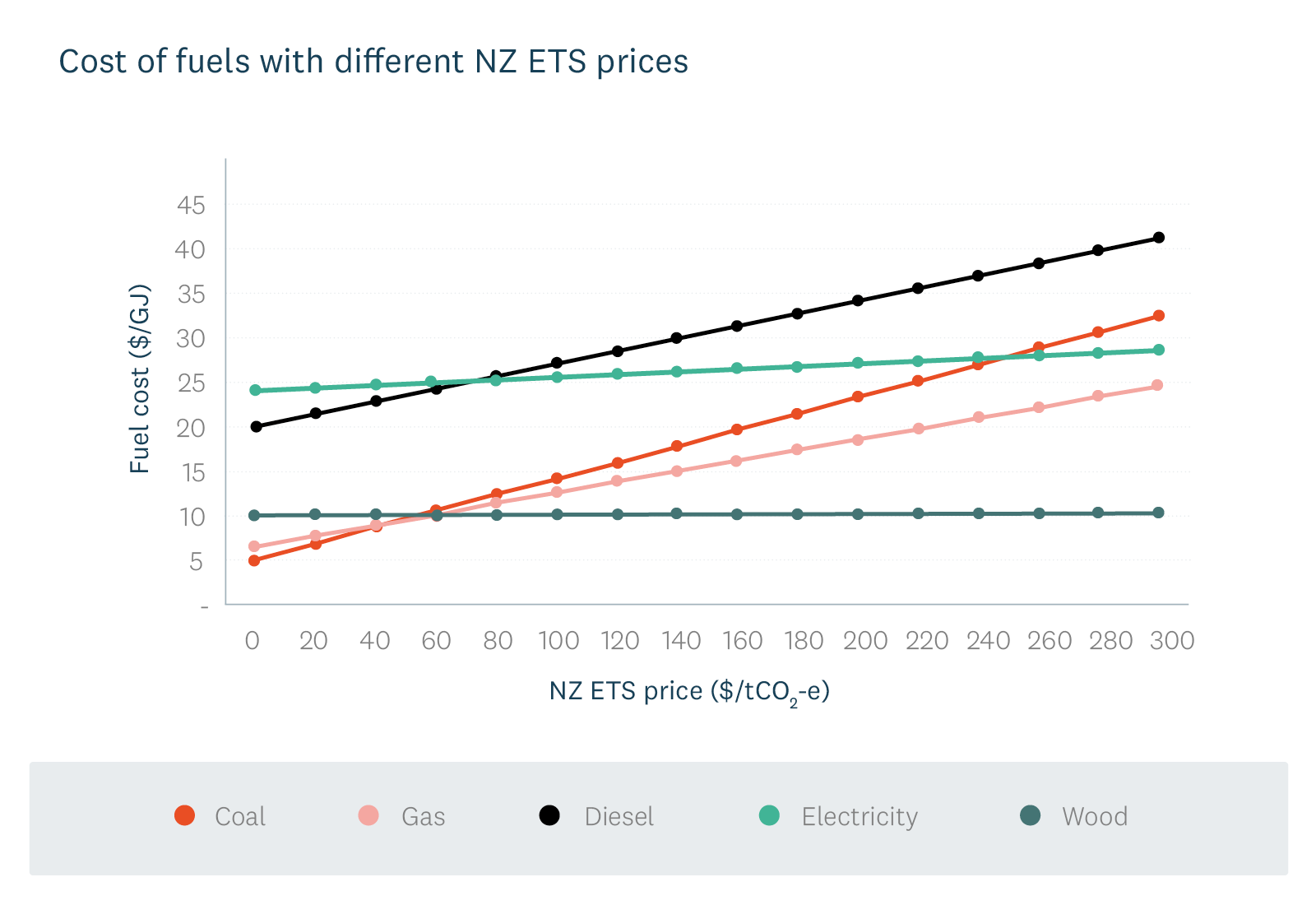 NZ ETS prices modelled through to 2050
The graph below shows historic and modelled NZ ETS prices from 2018 through until 2050.
Key explanation:
Historic NZ ETS price – this line shows actual historical NZ ETS prices between 2018 and 2022.
NZ ETS forward curve – this line shows a projection of future NZ ETS prices between 2023 and 2027, based on prices published in February 2023.
TIMES-NZ 2.0 (Kea) – this line shows the projected NZ ETS price based on the EECA and Business Energy Council's New Zealand Energy TIMES NZ 2.0 Kea Scenario. Explore TIMES-NZ 2.0
CCC Demonstration Path – this line shows the projected NZ ETS price based on the Climate Change Commission's Demonstration Pathway as part of its advice to the New Zealand Government on its first three emissions budgets and direction for its emissions reduction plan 2022-2025. Ināia tonu nei: a low emissions future for Aotearoa report
Note that Future NZ ETS prices are uncertain. Nothing in this document implies knowledge of future carbon prices or should be constituted as financial or investment advice.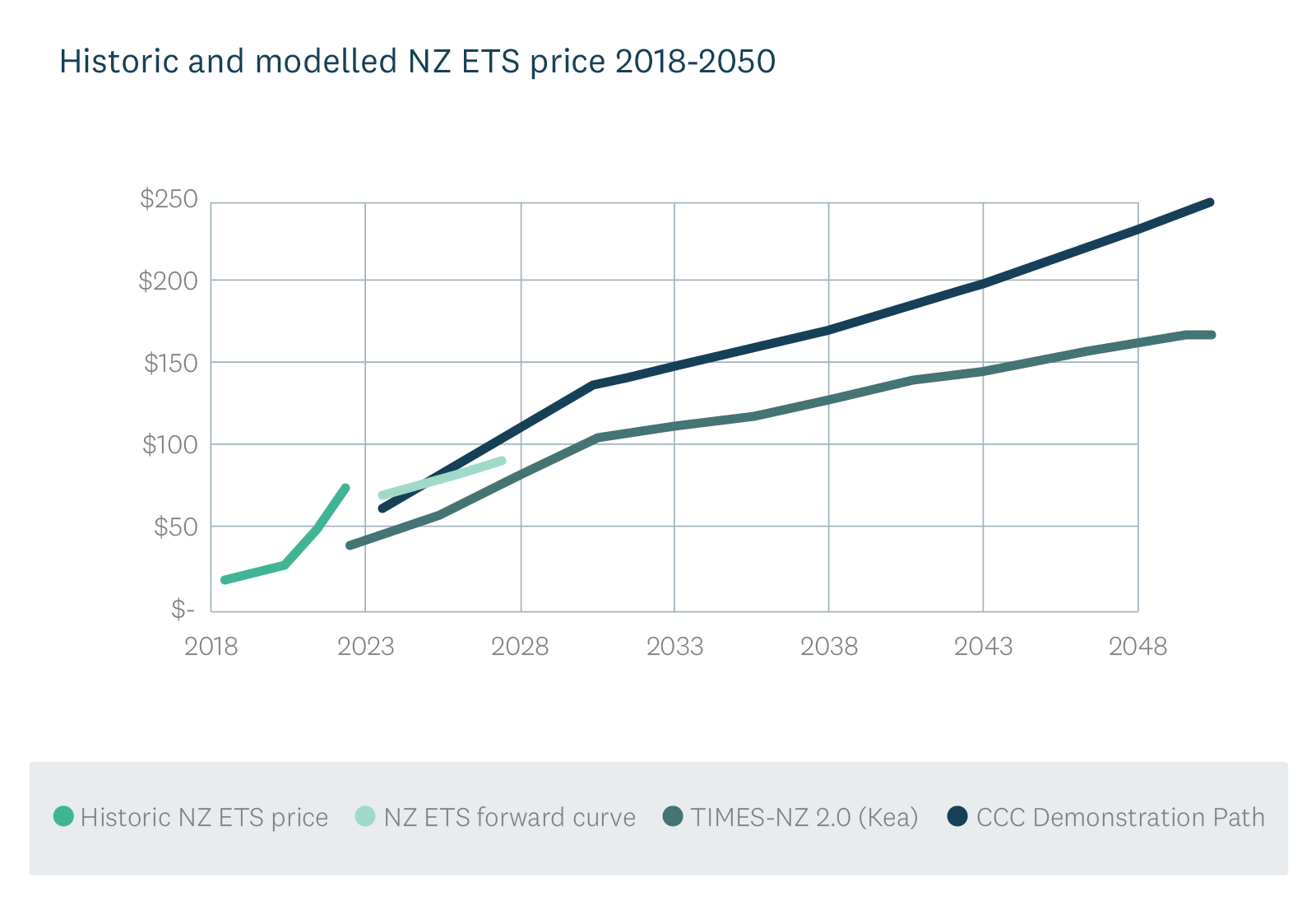 Sustainability actually improves efficiencies. If you can reduce your inputs to achieve the same outputs, you're reducing your energy costs, the amount of materials you need, and you can improve your return on investment.
Cost saving through energy efficiency
The most cost-effective way to reduce your businesses' carbon emissions is usually to improve energy efficiency by optimising current processes or introducing new technology to existing systems.
This is because operating and maintaining onsite equipment and facilities uses a lot of energy – from lighting to heating and everything in between. 
You can achieve greater energy efficiency by:
Optimising the current processes you have or reducing energy demand – such as tuning a boiler, ensuring there are no steam traps and leaks, and aligning HVAC systems with occupancy levels and times.
Replacing old, inefficient equipment such as lighting, motors, pumps, or fans with new high-efficiency alternatives.
Savings at Simply Squeezed
Simply Squeezed saw a 186,000 kWh per year reduction in energy use by installing controls to their boilers to operate in duty/standby when needed.
This has resulted in cost savings of approximately $9,100 per year.
Demand reduction at Visy
Maintenance on a steam network at Visy's processing plant for paper and cardboard saw an estimated savings of 117,000 kWh or $3,800 per year after inspecting steam traps and leaks. Similarly, reducing the processing plant's after-hours light usage was estimated to save Visy as much as 168,000 kWh or $20,000 per year (approximately).
Cost saving through fuel switching
While reducing energy demand is an important step prior to switching fuels, your business may determine that switching to low carbon fuels or technologies is eventually the best step to take to further decarbonise processes.
Although the initial investment can be significant, the operating costs are normally lower, meaning that businesses can save money in the medium-long term.
The below graphs show that while initial capital costs of low-emissions heat plants/boilers for process heat (biomass boilers, electrode boilers, and heat pumps) are more expensive than fossil fuelled plants (with the exception of coal), the operating costs over a 15-year period are much lower for both biomass boilers and heat pumps.
Heat pumps
A heat pump will generally reduce carbon emissions from heat delivered by 85 to 95%, depending on efficiency and the fuel replaced. Based on New Zealand Emissions Trading Scheme prices at $85 per tonne of carbon dioxide (as in late 2022), the heat pump projects funded under the first 3 rounds of GIDI will reduce their businesses' emissions trading scheme liability by an average of $300,000 per year.
Industrial heat pumps for process heat
Biomass boilers
The carbon emissions factors for biomass fuel are very low, so converting to biomass saves nearly 100% of carbon costs. However, these savings might be offset by increases in biomass fuel cost and is dependent on the type of biomass used.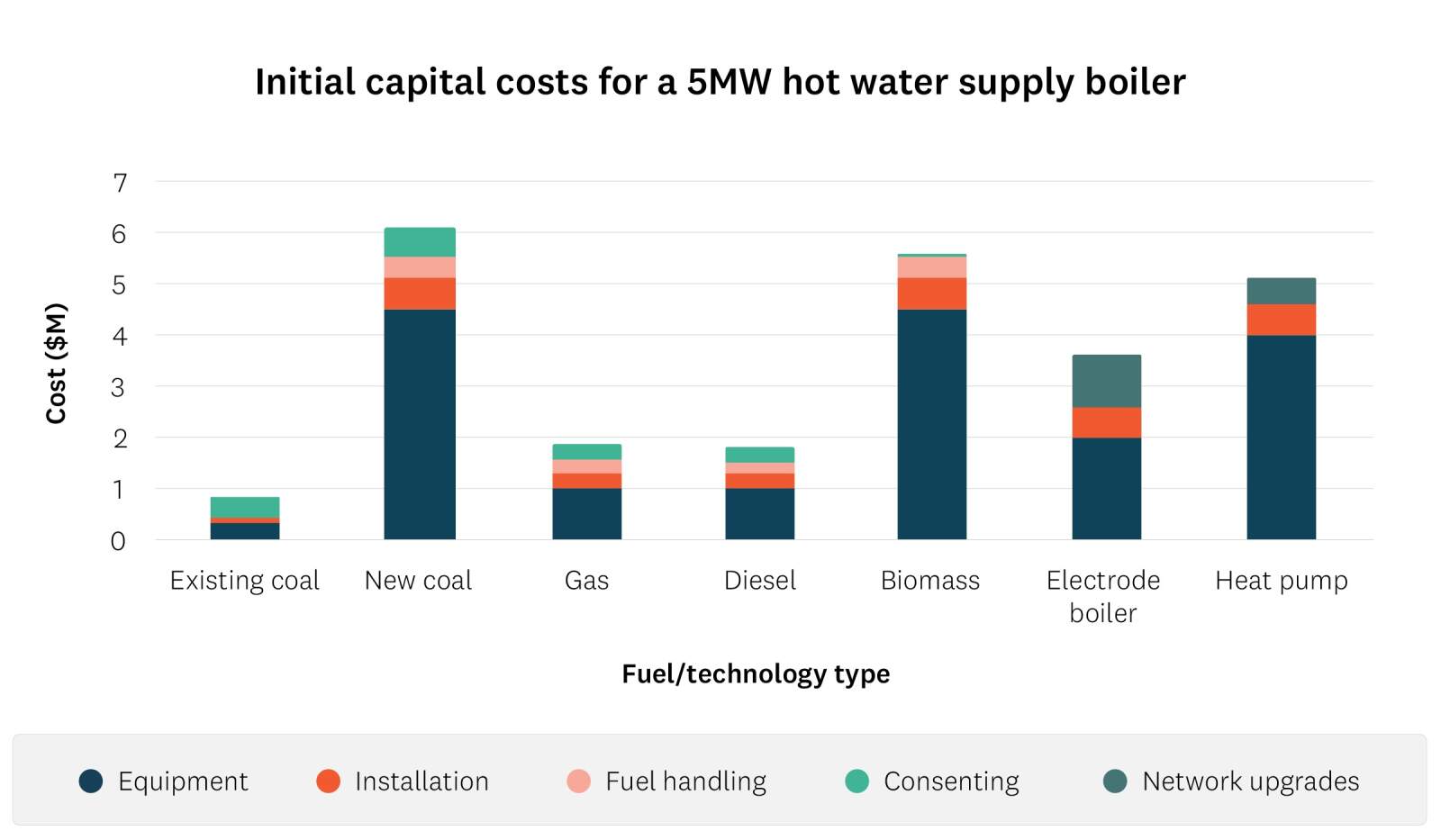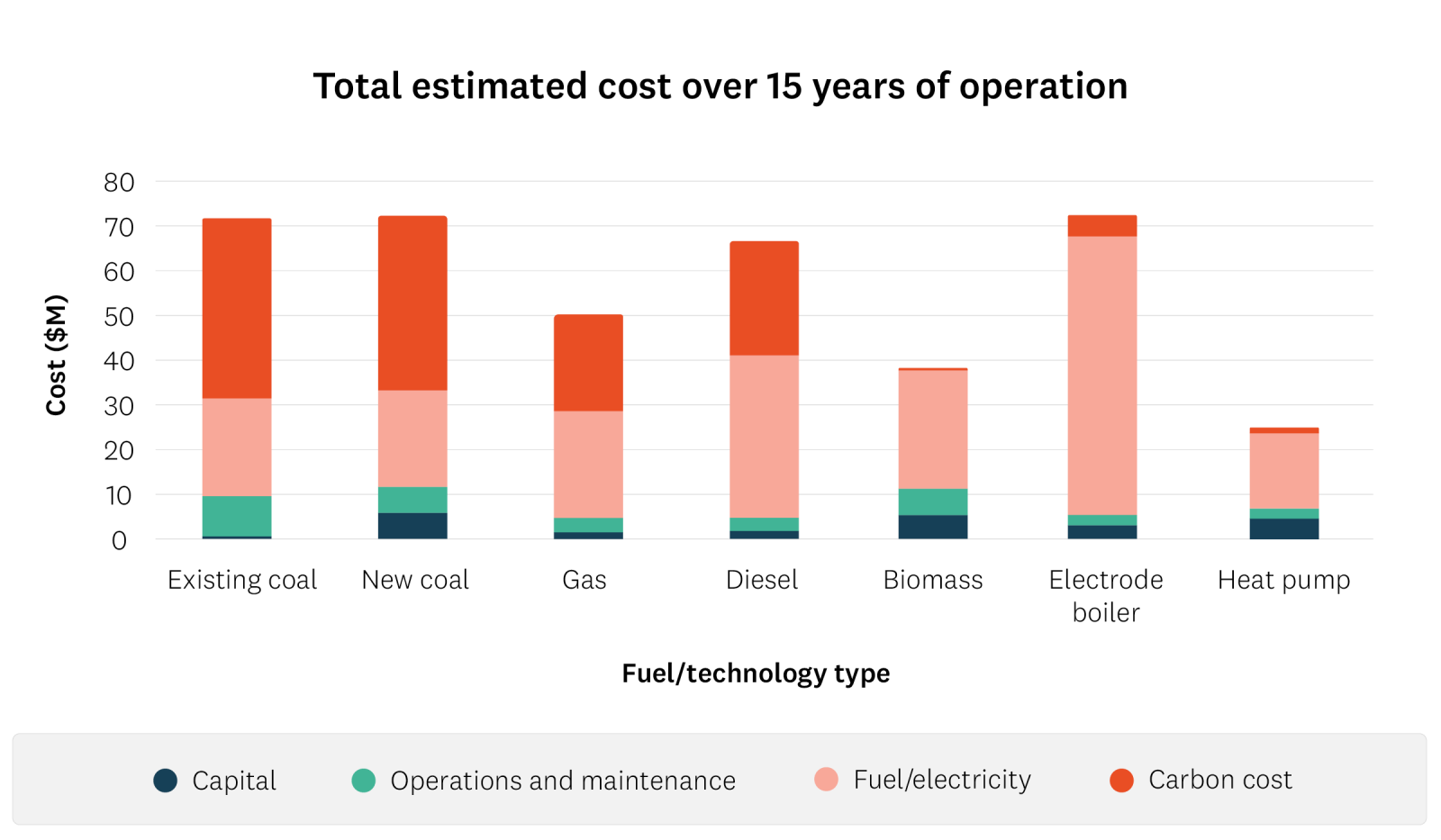 We've seen a big increase in the numbers of customers asking for the carbon data around delivery as companies look to make their business future proof. They are measuring their own carbon footprint and are aware of the role we play in their footprint.
How sustainability benefits your brand
Businesses are creating additional value and revenue by implementing environmentally friendly practices or selling environmentally friendly goods.
Customers and business stakeholders are increasingly interested in the sustainability of business practices, in-line with the global effort to reduce carbon emissions and slow down climate change. This gives businesses the opportunity to expand their customer base with new clients looking for sustainable options, meet employee expectations and increase business-to-business opportunities.
Export markets, investors, and customers are demanding better climate change credentials. As a result, businesses that have a decarbonisation roadmap and are taking the necessary steps to reduce their emissions, are protecting current supplier agreements, and opening up additional business opportunities.
Consumers want sustainable products
While several recent studies show that New Zealand consumers value the sustainability of products and services, a gap has emerged between what Kiwis are looking for, and what businesses believe their customers want.
EECA's September 2022 Consumer Monitor reflects that 81% of New Zealand consumers want businesses to do more to reduce their environmental impact. Yet, the November 2022 Business Monitor shows that only 26% of New Zealand businesses agree that taking action on climate change is a priority for them.
A 2019 study, titled In Good Company, by Perceptive, Porter Novelli, and the Sustainable Business Council, found 71% of New Zealanders to be actively researching sustainability practices of brands before making a purchase — that's over three million adult Kiwis. Tapping into this market can significantly improve sales and therefore business performance.
Kantar and the Sustainable Business Council's (SBC) Better Futures 2022 report found that 75% of New Zealanders agree that although brands with a clear sustainable message will continue to win, others need to work harder to improve their credentials. In addition, 76% are influenced by a brand's involvement in environmental and social issues before purchasing.
Read the reports
EECA Business Monitor – November 2022
EECA Consumer Monitor – September 2022
Better Futures 2022 report | SBC(external link)
Progress, not perfection
"We know that our employees and customers are invested in our journey, and it is important that we share our sustainability strengths and also the areas we need to improve on. It is impossible to demonstrate you are serious about carbon reduction if you cannot be transparent about what you need to improve. We are not perfect and our customers appreciate that honesty."
Florence Van Dyke, Co-Founder, Chia Sisters (pictured (left) with her sister and Co-Founder Chloe Van Dyke).
Chia Sisters - boosting business through sustainable practices
Chia Sisters, a Nelson-based juicery with Zero Carbon and Climate Positive certification through Ekos, has grown significantly since they embarked on their climate journey.
The company produces all-natural drinks that support everyday health needs, and seeks to leave a positive impact on the planet.
They have found that their sustainability efforts have not only reduced costs, but have also had substantial pay off in terms of brand value and sales. After installing solar panels at the juicery in 2018, Chia Sisters launched a juice range called "Bottled by the Sun" to highlight their use of the renewable energy source. They saw sales from the juice range skyrocket.
"We started by measuring our carbon footprint using a third-party consultant to understand the 'low hanging fruit' and where the biggest impact could be made," says Co-Founder Florence Van Dyke. "Some areas required minimal effort and capital such as adding insulation to our water tank – while others have been larger projects in our pipeline."
Chia Sisters is a founding member of local business network Businesses for Climate Action, which helps businesses in the top of the South Island tackle the challenge and opportunity that climate change presents.
Emissions reduction projects:
Adding insulation around their holding tank of water and production line to increase energy efficiency and reduce electricity use.
Using reusable pallet covers to decrease scope 3 emissions from plastic wrap that would have otherwise been used to cover the pallets.
Replacing the company car with an electric vehicle.
Stopping air freight, leading to cost savings for the business and significantly lower scope 3 emissions.
Installing solar panels to reduce energy costs.
Business benefits at a glance
Emissions reduction
Greater investment options from purpose-oriented investors
Substantial decrease in electricity costs
Greater interest from job seekers and increased staff retention
We look to our employees, our partners and our supply chains for ideas and solutions. If, for example, a carbon-neutral freight company comes along or introduces electric trucks and it fits with us, we'd go for it like a shot.
Attract and retain talent
Staff recruitment and retention is better for businesses who play their part in the fight against climate change.
Business attitudes towards climate change and sustainability practices are increasingly becoming a non-negotiable for employees and job seekers. In addition, businesses are finding that by having clear sustainability goals and a shared vision they are harnessing greater potential from their employees who are seeing their role as more than just a job, due to the social responsibility attached.
In our own EECA staff survey, 95% of respondents strongly agree or agree that they believe in what the organisation is trying to accomplish – i.e. to encourage, promote, and support energy efficiency, energy conservation, and the use of renewable energy. In addition, 90% know how their work contributes to the success of the organisation and 80% are satisfied with their job. This is encouraging considering the challenges we are seeing around talent attraction and staff retention both nationally and internationally.
Employees are expecting more action and clear direction from their business leaders. A 2022 Gen Z and Millennial survey undertaken by Deloitte found that after cost of living, the biggest concern is climate change. 75% of participants believe large businesses are not taking tangible action to fight climate change, despite almost half saying they personally put pressure on their employer to act.
The Deloitte Global 2022 Gen Z and Millennial Survey(external link)
A survey posted by Gallup reports that 69% of survey respondents consider a company's environmental record as a factor when determining whether they would like to take the job. By acting urgently to shape sustainable strategies and practices, businesses can experience better recruitment and staff retention.
Environmental Record a Factor for Most U.S. Job Seekers(external link)
Business giants are raising the standards
Unilever
Unilever is a large global consumer goods company responsible for household staple brands such as TRESemmé, Continental and Streets ice cream and has recently joined the B Corp community.
Unilever has implemented a sustainable business strategy which includes switching to 100% renewable electricity to power its operations, reducing plastic waste from their packaging, collaborating with farmers on Regenerative Agricultural Principles, and driving strong employee engagement around environmental, social and governance issues.
Unilever looks for other businesses with the same values to work with – such as suppliers who provide the ingredients and partners who sell their products.
Unilever Global: Making sustainable living commonplace | Unilever(external link)
Tesco
Tesco – one the World's largest retailers – has committed to reducing direct (scope 1) and indirect (scope 2) greenhouse gas emissions by 60% by 2025.
To help them get there, Tesco has set their own Science Based Targets. "Science-Based Targets have helped us, for the first time, to align our efforts to act on climate change with those of the global community.
This alignment signals the direction of travel in the fight against climate change to all of our stakeholders – including our investors, suppliers and customers".
Future proofing for climate-related regulations
Businesses need to urgently shift to sustainable practices to align with regulations, trading agreements and climate reporting requirements that are underpinned by a growing evidence base. This includes the national emissions budgets, the Emissions Reduction Plan, and research and advice that's coming into the public sphere — such as the recently released United Nations Intergovernmental Panel on Climate Change (IPCC) report.
Emissions reduction plan | Ministry for the Environment(external link)
Sixth Assessment Report | IPCC(external link)
Businesses should prepare for regulations and legislation
In October 2021, the Government passed world-first legislation making climate-related disclosures mandatory for some large financial market participants, including for large publicly listed companies, insurers, banks, non-bank deposit takers and investment managers.
Mandatory climate-related disclosures will help New Zealand meet its international obligations and achieve its target of net zero carbon emissions by 2050. By improving transparency and revealing climate-related information within financial markets, our financial system will become more resilient and climate change risks will be mitigated.
Mandatory climate-related disclosures | MBIE(external link)
Future proofing the freight and supply chain
In April 2022, Minister of Transport Hon Michael Wood announced the launch of the Te rautaki ueā me te rautaki whakawhiwhinga o Aotearoa – New Zealand freight and supply chain issues paper, the first step in developing a strategy that will optimise the supply chain over the next 30 years.
One of the key considerations of the paper is future proofing the system against climate change, which will have a large emphasis on decarbonising the supply chain. Failure to do so could negatively impact trade agreements.
While not mandated yet – reporting on scope 3 emissions may be enforced for businesses at some stage. Scope 3 emissions are emissions that are generated beyond the walls of your business, including:
Upstream – for example in your supply chain and from manufacturers.
Downstream – for example from transport, distribution and end use/end of life treatment of sold products.
New Zealand freight and supply chain issues paper | Ministry of Transport(external link)
Soar Print's sustainability journey
2:29 mins
"Sustainability is good for staff retention. A lot of younger staff are interested to hear what you're doing to improve sustainability and reduce carbon emissions, and they want to work with a company that thinks those things are important.

The process to becoming carbon neutral is a lot less complicated than you might think."
Jenny Carter, Financial Director Soar Print
Sudima Hotels' sustainability journey
2:38 mins
"Right now when we're bidding for contracts for room nights, there's a lot of questions around sustainability, what we're doing and how we're running as a business. So we find that we're attracting more customers by being more sustainable."
Kanika Jhunjhnuwala, Executive Director – Sustainability & Environment
Progress your decarbonisation journey
Industry-specific support delivered step-by-step, as you need it. Our Sector Decarbonisation Pathways are developed in partnership with sector associations and technical experts to connect New Zealand businesses with world-class innovation and best practice guidance to decarbonise at a sector level.

EECA co-invests in energy efficient technologies and the use of renewable sources of energy. When there are financial barriers, we help to overcome these and appropriately share the financial risk to incentivise energy users to invest in technologies and renewable sources of energy that can make a real difference.

Our Gen Less website offers guidance for smaller businesses. Learn how to get started by measuring your business emissions and creating an action plan. Explore the changes you can make in various areas of your business to use energy more efficiently, and reduce emissions.