Energy contributes over 40% of New Zealand's total greenhouse gas emissions. One third of these are from process heat, that in most instances is generated from burning fossil fuels. Process heat is mostly used by industrial businesses, providing a unique opportunity for industry to contribute significantly to our goal of net zero carbon emissions by 2050.
Biomass is a low-carbon alternative to fossil fuels for industrial process heat.
Biomass boilers
The technology is gaining popularity in New Zealand, with multiple businesses now using biomass boilers as a clean alternative to fossil fuelled boilers.
A potential low-carbon alternative to fossil fuels for businesses with heat temperature requirements above 100°C, particularly where electrification is not a viable option – provided you have access to a long-term local biomass supply.
Biomass boilers typically cost about the same (on a $ per megawatt basis) as a coal boiler to install, and in some cases have lower fuel costs than coal.
What are biomass boilers?
Biomass boilers are a well-known technology in New Zealand used to generate process heat. They look and operate like coal fired boilers, but are fed by biomass such as hog fuel, woodchips, sawdust or wood pellets.
Biomass boilers involve technologies that are similar to coal combustion, allowing a transition to full fuel switching in either an existing (in some instances) or replacement boiler, or a partial fuel switch by co-firing existing coal boilers.
Dedicated biomass boilers have biomass-specific feed systems and burners and are supplied with controls and tuning to optimise combustion of biomass. Most dedicated biomass boilers are designed to run on a single biomass fuel type, however multi-fuel options are used occasionally.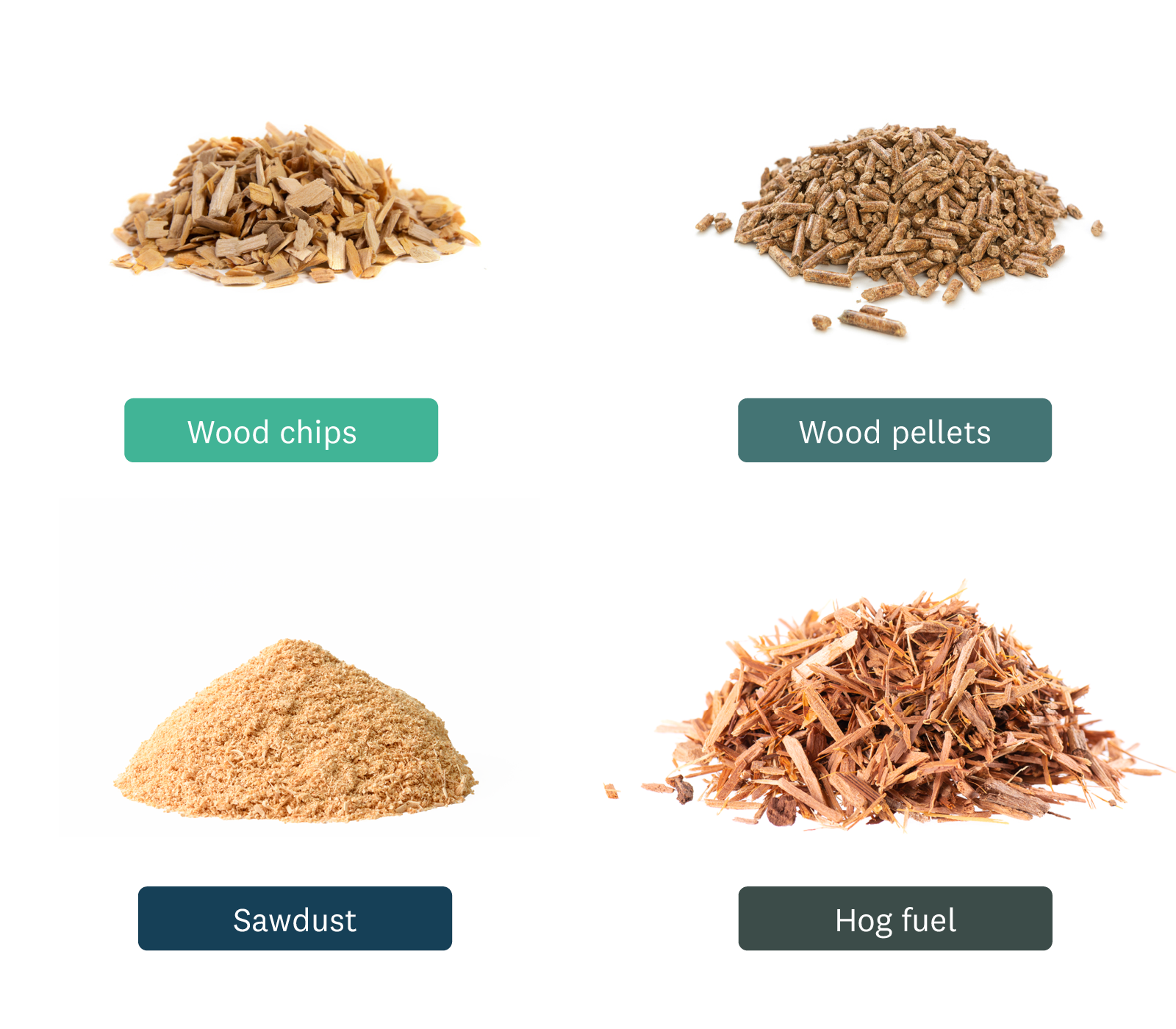 The sustainability of biomass
What makes biomass a sustainable option in the New Zealand context?
New Zealand has a well-developed successful forestry sector and good plant growing conditions (including the space to grow trees), meaning that biomass use in New Zealand is a good option from both supply and sustainability perspectives.
Until recently, some types of biomass were considered waste – so utilising biomass as a fuel source has created additional revenue streams, including by creating jobs in the forestry sector.
As long as trees that are converted to biomass are re-planted and sustainably managed, biomass as a fuel source is 100% renewable. This cycle ensures that a reliable, sustainable, and continuous supply of fuel can be maintained.
Many businesses across industries are now switching to biomass boilers. Making the switch may be the right move for your business too.
How businesses are using biomass boilers
Biomass boilers are gaining popularity both internationally and here in New Zealand to provide process heat needs across different industries. The wood manufacturing industry commonly uses biomass boilers, however other industries are also switching to the technology for their process heat needs, including:
Food and beverage manufacturing
Dairy product manufacturing including rendering or milk powder drying
Indoor cropping
Meat product manufacturing
Common uses for the technology include low-to-medium temperature process heat up to 300°C, which is the maximum temperature required for most industrial steam applications, excluding co-generation.
Is a biomass boiler the right option for your business?
Switching to biomass may be a good move for if some or all for the following apply to your business:
You are within 100km to a stable and sufficient biomass source to fuel your biomass boiler.
You are after an environmentally friendly alternative to your existing coal, natural gas, diesel or LPG boiler.
Your electricity connection is constrained or would be expensive or slow to upgrade, which may make heat pumps or electrode boilers unattractive.
Your plant has a high load factor (boiler utilisation rate) and/or high peak loads (maximum operating heat demand), meaning that fuel costs need to be as low as possible.
Your existing coal boiler is relatively new and could be retrofitted. Biomass boilers can be readily integrated into existing energy systems since the supply temperature and working fluid is generally identical to an equivalent coal or gas boiler.
You have a multi-boiler site and are looking for a mix of different fuels (e.g. electric and biomass powered boilers) to give you greater energy security or flexibility.
You have space to store (and keep dry) a sufficient supply of biomass to cover weekends and other transport issues. Generally, sites with coal boilers are likely to have space for the required fuel reception, handling, and storage equipment.
You require temperatures over 100oC (for temperatures below 100oC, EECA recommends electric heat pumps due to higher efficiency).
At a glance: Fonterra's switch to a wood pellet boiler
A switch to biomass by New Zealand's largest dairy cooperative has ticked all the boxes: eliminating carbon emissions, reducing costs, improving efficiency, and delivering multiple environmental benefits. All while improving bottom-line economic performance.
The boiler runs continuously throughout the milk processing season on a steady supply of wood pellets, reliably delivering 43 megawatts of steam to process 2.8 million litres of milk every day.
Key project stats
Project – Conversion of a 43 MW coal boiler to use wood pellets
Project location – Te Awamutu
Total project cost – $12 million
EECA co-funding – $200k through the Technology Demonstration Fund
Estimated emissions saving – 89,000 tCO2-e per year
Commission date – August 2020
Performance outcomes
98.4% reduction in greenhouse gas emissions
The boiler has consistently and reliably delivered steam to the site
Thermal efficiency of the boiler has increased by approximately 4%
Particulate emissions from the plant have been cut to less than 10% of the site's consented limit, materially improving air quality
Sulphur dioxide emissions have been reduced. Sulphur dioxide is a pollutant produced from burning coal, that can be harmful to human health.
Lessons learned
Wood pellet fuel must be covered for storage
Pellets are more prone than coal to roll backward on steeper conveyors, requiring minor pitch adjustments
Adjustments to boiler air supply are needed to enhance combustion
Boiler grate temperatures could increase from fuel switching
Dust can be an issue to manage with drier fuels such as wood pellets
Good for business
Kevin Liao, Commissioning Manager at Fonterra said that the fuel switching project stacked up commercially from the time it was commissioned, and increasing carbon prices would further advantage the wood pellet plant.
He said that additionally, the long-term domestic wood pellet supply chain looks positive as more and more forestry is being developed both to absorb carbon and deliver for the timber market.
"The new fuel supply chain has been smooth and reliable thanks to a long-term supply contract with local wood pellet manufacturer, Nature's Flame."
The plant is setting new environmental standards in a sector that has traditionally been viewed as difficult to shift to renewable energy sources. In doing so, it's also future proofing the plant and delivering better economic performance for shareholders.
Breaking down the costs
While installing a biomass boiler may create an upfront cost to your business, there is potential to save costs in the medium to long term. There are also other hidden cost savings that businesses should consider when determining whether the switch is right or not.
Capital cost
In terms of initial costs to your business, typical capex costs for a new biomass boiler for recent GIDI-funded projects have tended to be about $750,000 to $1,000,000 per MW. This is similar to new coal boilers and heat pumps, but higher than gas, liquid or electrode boilers.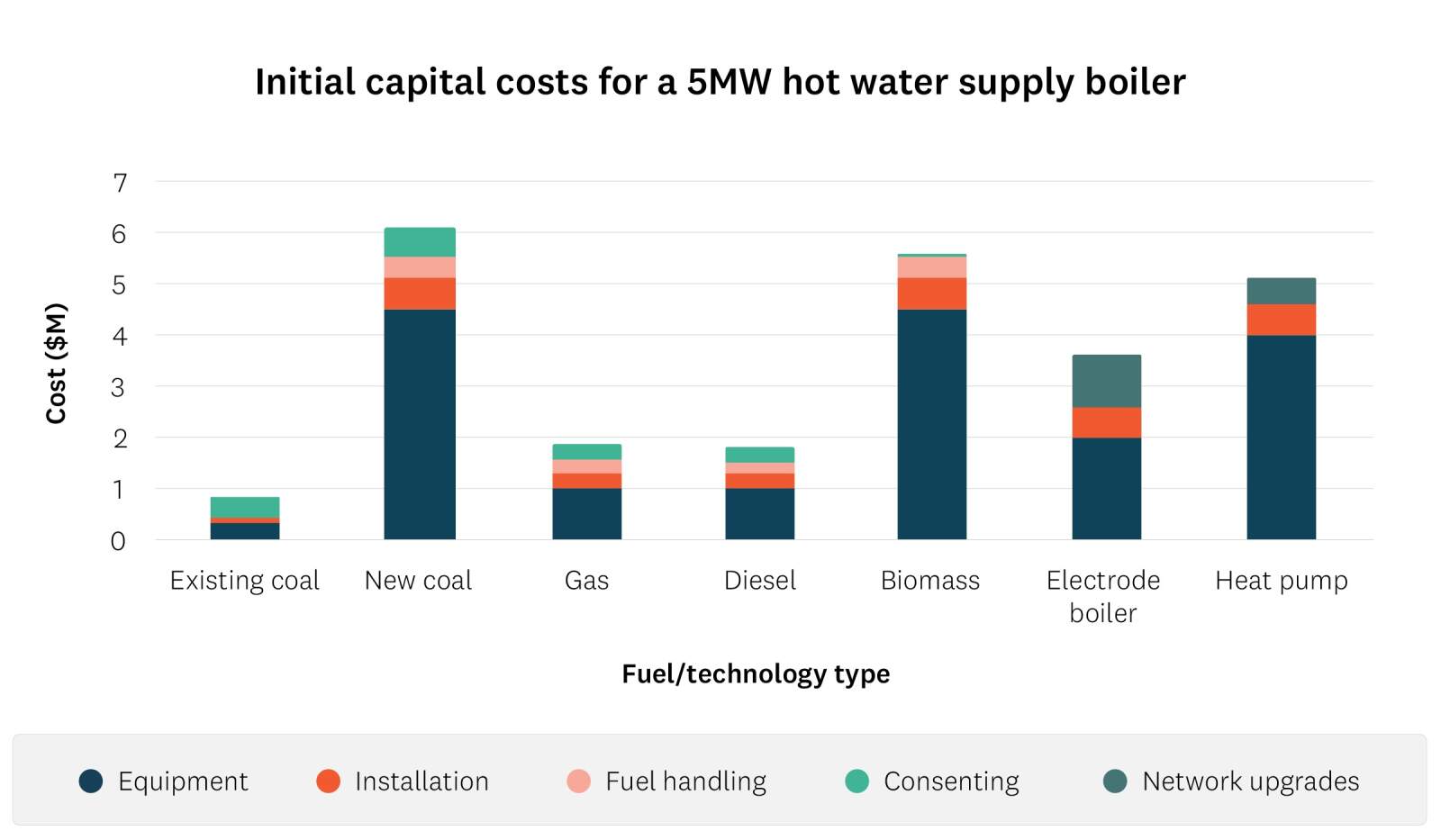 Running costs
New biomass boilers tend to have lower maintenance costs than existing coal boilers but require more maintenance than other low-emission options.
Typical biomass fuel costs vary depending on source and fuel type. Chip and hog fuel tend to be cheaper, but may require more operational intervention, while pellets are more expensive but tend to be easier to use, transport, store, and handle, and may allow for more automated boiler operation.
Biomass fuel costs more than coal, but the gap is closing as carbon prices increase. Biomass fuel supply can be limited, and prices may fluctuate if demand exceeds supply. Obtaining a firm contract price for biomass fuel supply is recommended prior to committing to a new biomass boiler.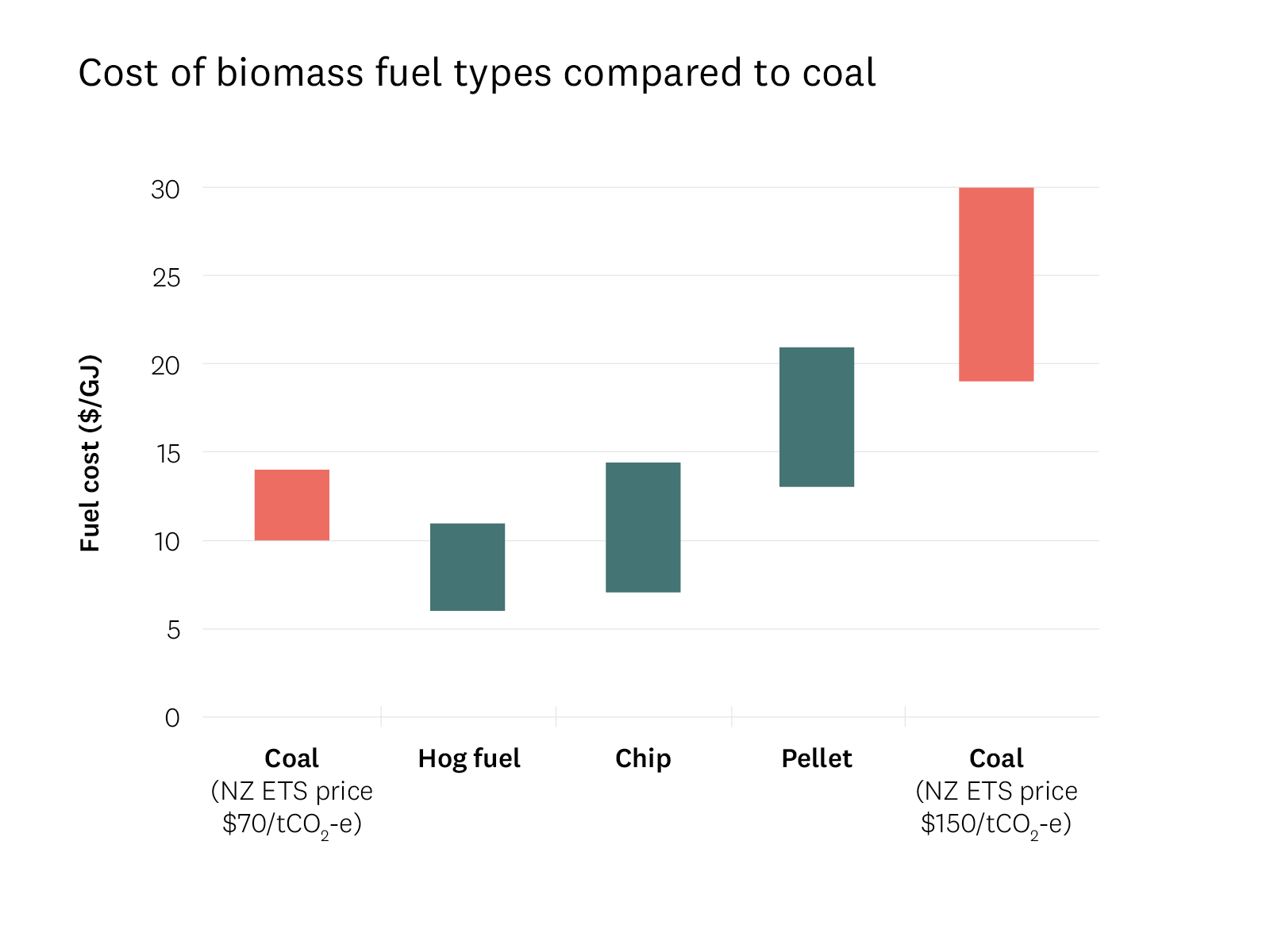 Other cost considerations
The carbon

emissions

factors for biomass fuel are very low, so converting to biomass saves nearly 100% of carbon costs. However, these savings might be offset by increases in fuel cost.

Biomass boilers still produce an amount of ash, but it is much less toxic

than coal ash

(or completely non-toxic

)

,

so

is cheaper

to dispose of.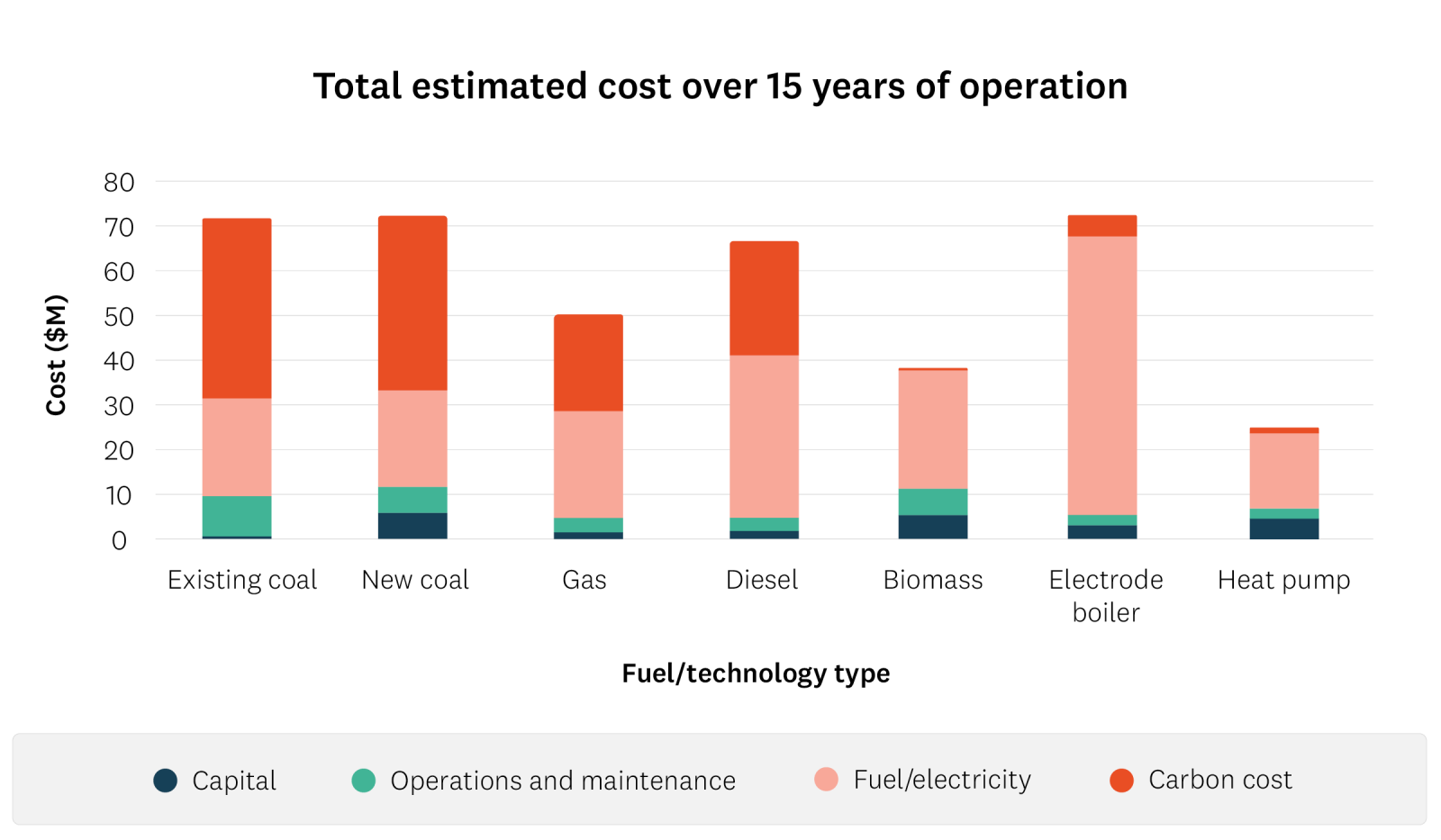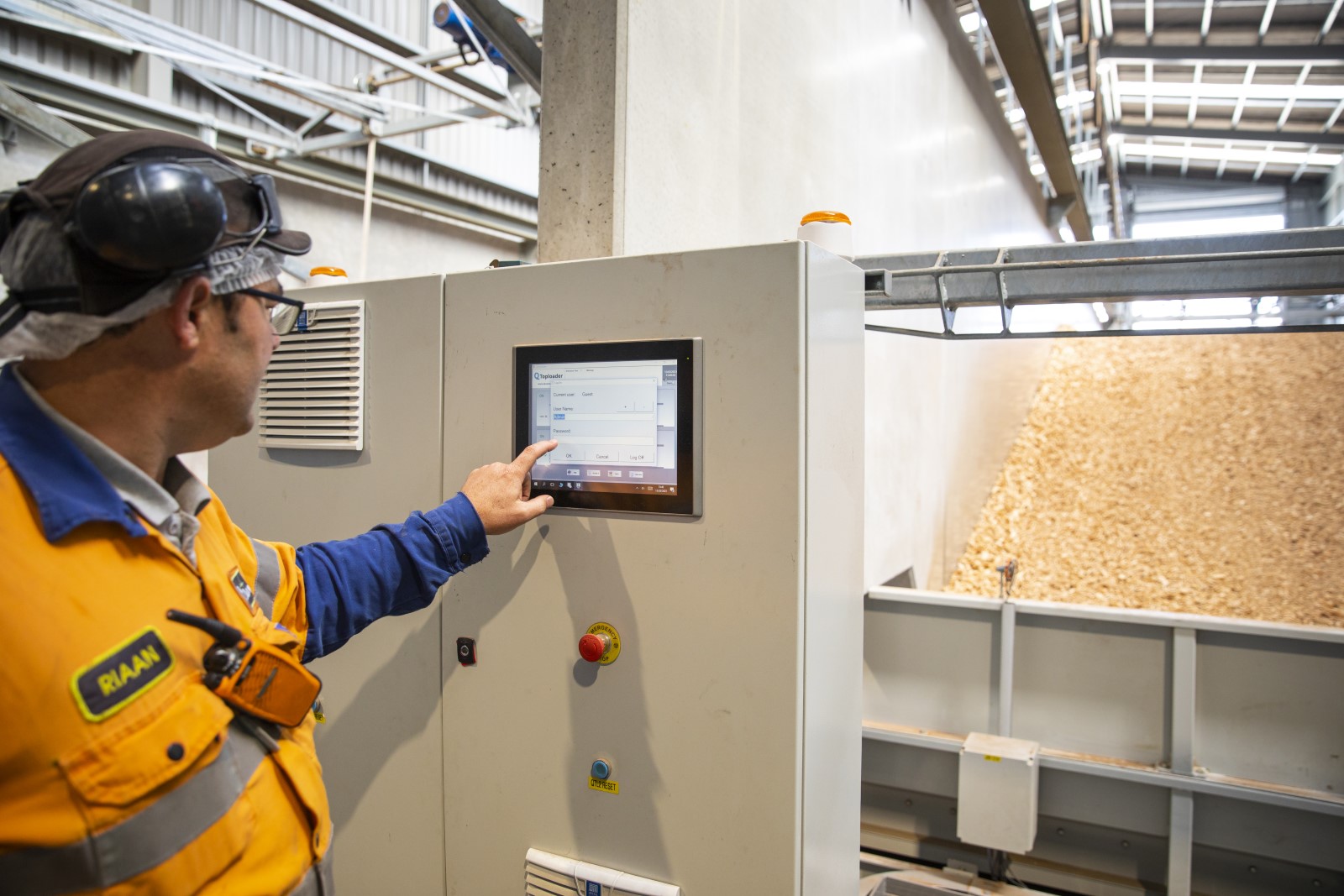 Co-funding for fuel switching
EECA's Government Investment in Decarbonising Industry Fund (GIDI) has co-funding available for businesses wanting to switch from fossil fuels to low-carbon alternatives. Since 2020, the GIDI Fund has supported 12 businesses to switch from coal and gas to biomass boilers. Through Budget 2022, the Government allocated an additional $650 million for the GIDI Fund over the next 4 years to further accelerate business decarbonisation. Your project may be eligible for funding.
Contact us

We welcome enquiries - if you would like feedback on whether your project may be eligible for GIDI funding, please get in touch with us at GIDIFund@eeca.govt.nz
When are biomass boilers not recommended?
While there are many circumstances where a biomass boiler may be the right option for you, there are also potential challenges to be aware of when considering the switch.
Some challenges with biomass boilers include:
Supply considerations – If your site is over 100km from a biomass supply or hub, the transport costs may be prohibitive. Also, biomass (especially chips and hog fuel) has a lower energy density, which increases the number of truck deliveries compared to coal.
Space requirements – If you have space constraints that limit on-site storage, operation becomes dependant on ongoing deliveries. This can be problematic for some businesses where access is difficult, leading to limited delivery, or where space is not sufficient to cover weekends or other periods where deliveries cannot be made.
Low utilisation factors – If you have low operating hours or capacity factors, the high capital cost of a biomass boiler may not be offset by lower operating costs compared to an electric boiler.
Temperature requirements – If your temperature requirements are below 100°C, a heat pump may be better suited. Likewise, if you require a mix of steam and hot water, a hybrid system (such as a small boiler for steam, and a heat pump for hot water) may be a better option than a large biomass boiler.
Prep for success
When thinking of switching to biomass boilers for process heat, it is important that you undertake your own research and take all relevant steps to best set yourself up for success. These steps will vary depending on the business, but an example is:
Understand your true energy needs.
Identify Energy efficiency and process optimisation opportunities.
Engage with fuel suppliers in your region to understand quantity, type and cost of fuels available over the life of the project.
Engage with equipment suppliers to understand the range, performance, cost and delivery timeframes of key components.
Look closely at a range of energy sources, and consider factors such as storage, resilience, and sensitivity to other factors. Include hybrid systems in your analysis.
It is normal for businesses to face barriers when adopting clean process heat technology. Several large businesses that have adopted these technologies have identified a range of lessons that other businesses can learn from.
The Large Process Heat Users and Energy Efficiency in New Zealand report, commissioned by EECA and prepared by Price Waterhouse Coopers New Zealand outlines some of these barriers that businesses both in New Zealand and in the international context have faced, as well as ways these barriers have been overcome.
It is important that businesses have a strong business case and/or feasibility study to support a potential projects success. EECA's feasibility studies and business programme helps you to build a strong business case with rigorous assessment, investigation and analysis that will give confidence that the project will be a success. Co-funding is available for successful applicants.
Regional decarbonisation
EECA is working with local stakeholders through its Regional Energy Transition Accelerator programme to identify the best decarbonisation options for each region, starting with South Island regions in 2022/23. If you are interested in switching to biomass, or if you are interested in supplying biomass, we'd love to hear from you.
Email us at RETA@eeca.govt.nz
Read next
Article

Fuel switching captures economic and climate benefits for Fonterra.

Case study
Innovation
Fuel switching

21 July 2021

Article

Work is underway to replace all coal boilers in New Zealand public schools by 2025.

Co-funding 
Decarbonisation
Fossil fuel

27 January 2023

Article

Marlborough-based herb and salad green growers, Thymebank, have switched from coal to wood waste and nut shells for their glasshouse heating.

Innovation
Decarbonisation

2 November 2022