Reducing our reliance on fossil fuels will future proof our businesses and economy and is one of the biggest opportunities we have to help meet New Zealand's net zero climate target.
A partnership between government and industry
Government Investment in Decarbonising Industry (GIDI) Fund supports energy efficiency, and the switch from fossil fuels to cleaner renewable energy sources across the industrial and commercial sectors.
GIDI is part of the government's Climate Emergency Response Fund (CERF) and is funded via proceeds from the Emissions Trading Scheme. A total of $650m ($1b over 7 years) was allocated as part of Budget 2022.
The partnership approach helps by getting decarbonisation projects across the line and happening faster than they otherwise would, delivering larger and earlier emissions reductions. It helps by investing in businesses instead of buying offsets overseas – and by supporting a just transition.
Objectives of the GIDI Fund
Accelerating business decarbonisation to support the Government's emissions reduction goals.
Optimising energy use by New Zealand's businesses, easing the transition and helping improve productivity.
Helping achieve a just transition.
The GIDI funding has helped fast-track the process and was the driving force behind the decision to move away from coal.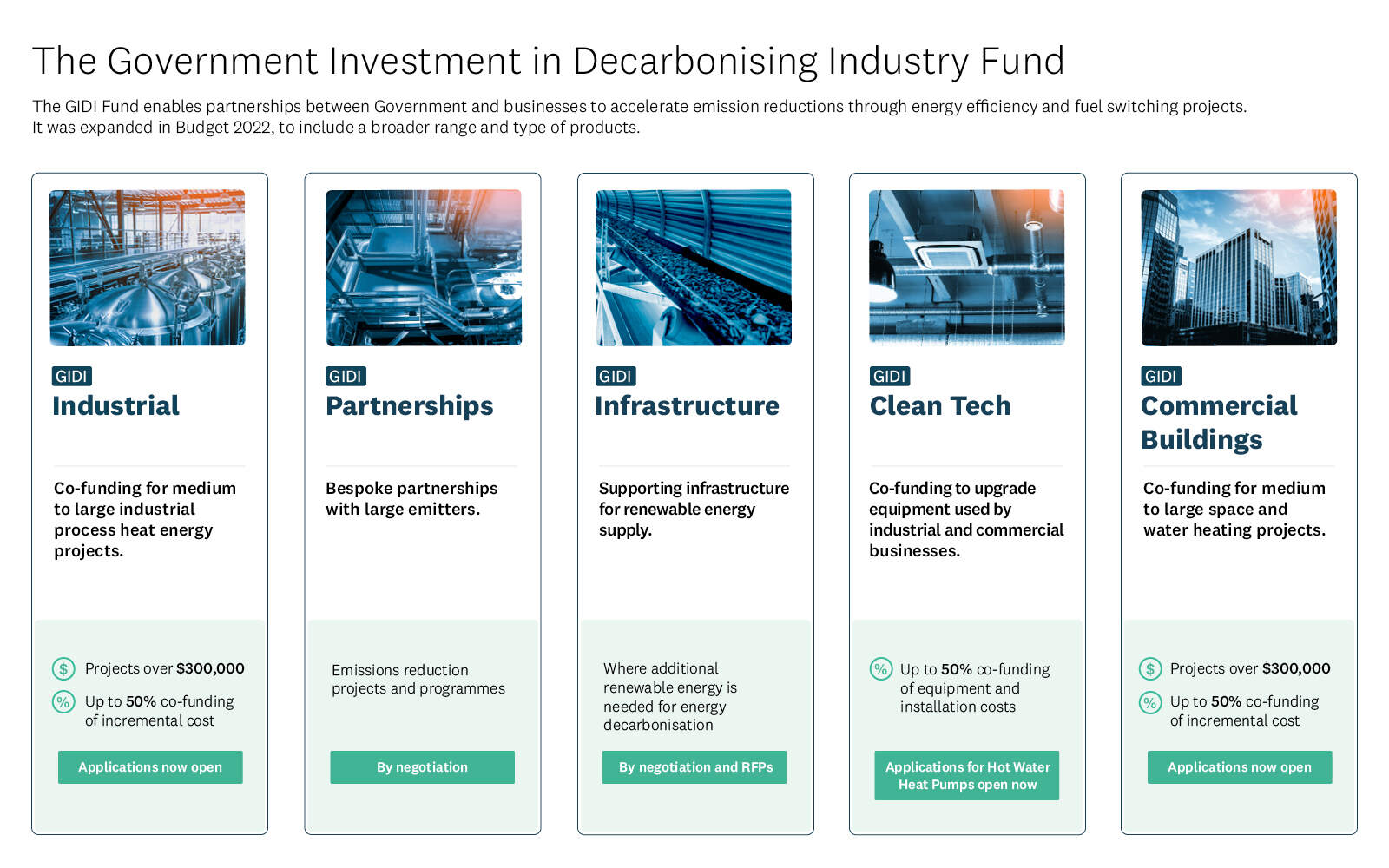 GIDI: Industrial
Applications for GIDI: Industrial are now open.
Support to help medium to large industrial businesses that use process heat, powered by fossil fuels, switch to clean energy. Co-investment helps businesses overcome an investment hurdle and bring forward valuable low emissions-projects.
Learn more about GIDI: Industrial
GIDI: Partnerships
A long-term partnership approach with New Zealand's largest energy users to reduce their reliance on fossil fuels and support the transition to clean and clever energy. This will help unlock large scale emissions reductions as quickly as possible.
Learn more about GIDI: Partnerships
GIDI: Commercial Buildings
Applications for GIDI: Commercial Buildings are now open.
The funding helps commercial building owners and tenants increase energy efficiency and lower emissions by replacing fossil fuel boilers used for space and water heating in commercial buildings.
Learn more about GIDI: Commercial Buildings
GIDI: Clean Tech
Applications for GIDI: Clean Tech will be phased, with new programmes opening over time.
Support for small to medium businesses in commercial and industrial sectors to install and upgrade to energy-efficient, low emissions, technologies and processes. Making a switch will reduce fossil fuel reliance, and carbon emissions, and unlock cost savings over time.
Hot Water Heat Pumps programme
Applications are now open.
Grants to help replace inefficient electric or fossil fuel technology used to heat water for day-to-day water consumption in commercial and industrial buildings. Existing technology will be swapped out with readily available hot water heat pumps.
Learn more about GIDI: Clean Tech
GIDI: Infrastructure
Co-funding for electricity transmission and distribution upgrades that will accelerate the transition to net zero. Investment will help overcome network and supply constraints, support fuel-switching, and the early adoption of other technologies that promote emissions reduction.
Biomass Supply Chain Investment Fund
The ROI is closed, please check back for updates.
Supporting the scaling up of biomass supply for this in-demand renewable fuel. This programme is available for businesses and public sector organisations.
GIDI: Private Finance
Connecting GIDI applicants to financial providers who can help with green products and services. This scheme, will maximise the reach of GIDI funding available to businesses to help achieve New Zealand's decarbonisation targets
NZ Sugar: "GIDI will bring forward our project"
0:28
Graeme Smith, General Manager, NZ Sugar, highlights why GIDI is crucial for them.
Read about GIDI-funded projects
Article

World-first decarbonisation of a New Zealand wool scouring plant.

Co-funding 
Process heat
Decarbonisation

21 July 2022

Article

A Kiwi crop company is looking to lead the way in low-carbon produce, so we can eat our salads knowing they haven't been grown in coal-heated glasshouses.

Co-funding 
Innovation
Decarbonisation

20 July 2022

Article

Switching away from coal will help industry-leading company reduce carbon emissions and save money.

15 December 2021