The investment will be across four years, and will cover a broader number and type of projects:
A continued focus on process heat (similar to previous GIDI):
Including high impact decarbonisation projects of national significance.
Targeted investment at a regional level for projects that optimise low emission fuel use.
Funding for electricity transmission and distribution infrastructure upgrades to support fuel-switching, and the early adoption of high decarbonisation energy technologies.
Help for businesses to buy and install low emission, high efficiency electrical equipment used for industrial and commercial processes, including specifically electric motors and electric heat pumps.
Help for commercial buildings replacing fossil fuel use for space and water heating, to lower emissions and increase energy efficiency.
Introducing the expanded GIDI fund
A quick look at how the GIDI will introduce new elements over the next four years; further details will be added over time.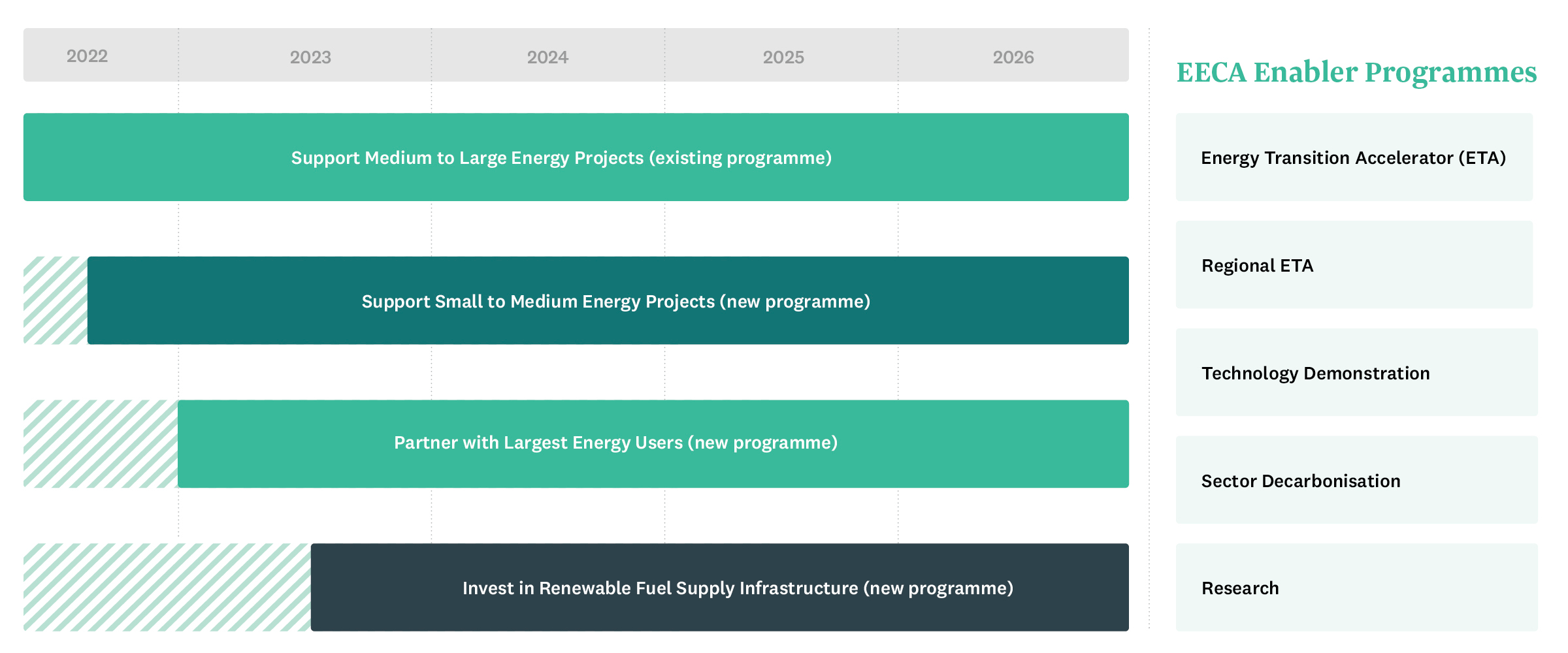 An RFP for the first round of the expanded GIDI fund will be live on the EECA website in the week of 6 June.
The focus, similar to previous rounds, is assisting energy users to lower their emissions linked to process heat, by supporting fuel switching and energy efficiency projects.
Check back here in the week of June 6 to find out if you're eligible, and what it means for you. If you have any questions, email the team at GIDIfund@eeca.govt.nz.
Eligibility criteria for the first RFP will include

Objectives of the GIDI fund
Process heat makes up around a third of New Zealand's overall energy use, and 60% of process heat is fossil-fuelled, mainly by gas and coal. The objectives are:
accelerating business decarbonisation to support the Government's emissions reduction goals
optimising energy use by New Zealand's businesses, easing the transition and helping improve productivity, and
helping achieve a just transition.
Who can apply
Co-investment is available to New Zealand-based private sector businesses that have committed to decarbonising their industrial processes but where additional Government co-investment is needed. Fund recipients must:
use fossil fuels as the source of energy in their industrial processes and process heat
have committed to a carbon reduction pathway and have a plan to deliver on it.
Sign up for our regular EECA emails for updates, including details of new funding rounds
How it works
1

RFP release

RFP documents for this round of the expanded GIDI fund will be live on the EECA website in week of 6 June.

2

Project evaluation

A technical advisory group will evaluate the Applicant's ability to deliver the project (financial and technical due diligence) and performance against the assessment criteria. The TAG will prepare an evaluation report for the Assessment Panel. The Assessment Panel will then evaluate the Project's alignment with the Investment Principles, taking into account the TAG's evaluation report, before making funding recommendations.

3

Funding recommendation

The panel's final funding recommendations will then go to the EECA Chief Executive, EECA Board and the Minister of Energy and Resources in accordance with EECA's delegated authority framework.
Read more about previous GIDI-funded projects
From the brink of closure to a bright new future for Bay of Plenty business.

8 December 2021

Switching away from coal will help industry-leading company reduce carbon emissions and save money.

15 December 2021

New Zealand's leading mushroom grower is committed to reducing carbon emissions.

16 November 2021