New Zealand's Emissions Reduction Plan (May 2022) sets out the pathway for how New Zealand will meet its first emissions budgets (2022-2035) and achieve long-term climate targets.
To help meet this challenge, the Government has announced expanded funding of around $650 million for the Government Investment in Decarbonising Industry fund (GIDI), coming from the Climate Emergency Response Fund (CERF).
Read the announcement by Minister of Energy and Resources, Dr Megan Woods:
Supercharging decarbonisation & transforming the energy system | Beehive.govt.nz(external link)
Introducing the expanded GIDI Fund
The investment will be across four years, and will cover a broader number and type of projects:
A continued focus on process heat (similar to previous GIDI):
Including high impact decarbonisation projects of national significance.
Targeted investment at a regional level for projects that optimise low emission fuel use.
Funding for electricity transmission and distribution infrastructure upgrades to support fuel-switching, and the early adoption of high decarbonisation energy technologies.
Help for businesses to buy and install low emission, high efficiency electrical equipment used for industrial and commercial processes, including specifically electric motors and electric heat pumps.
Help for commercial buildings replacing fossil fuel use for space and water heating, to lower emissions and increase energy efficiency.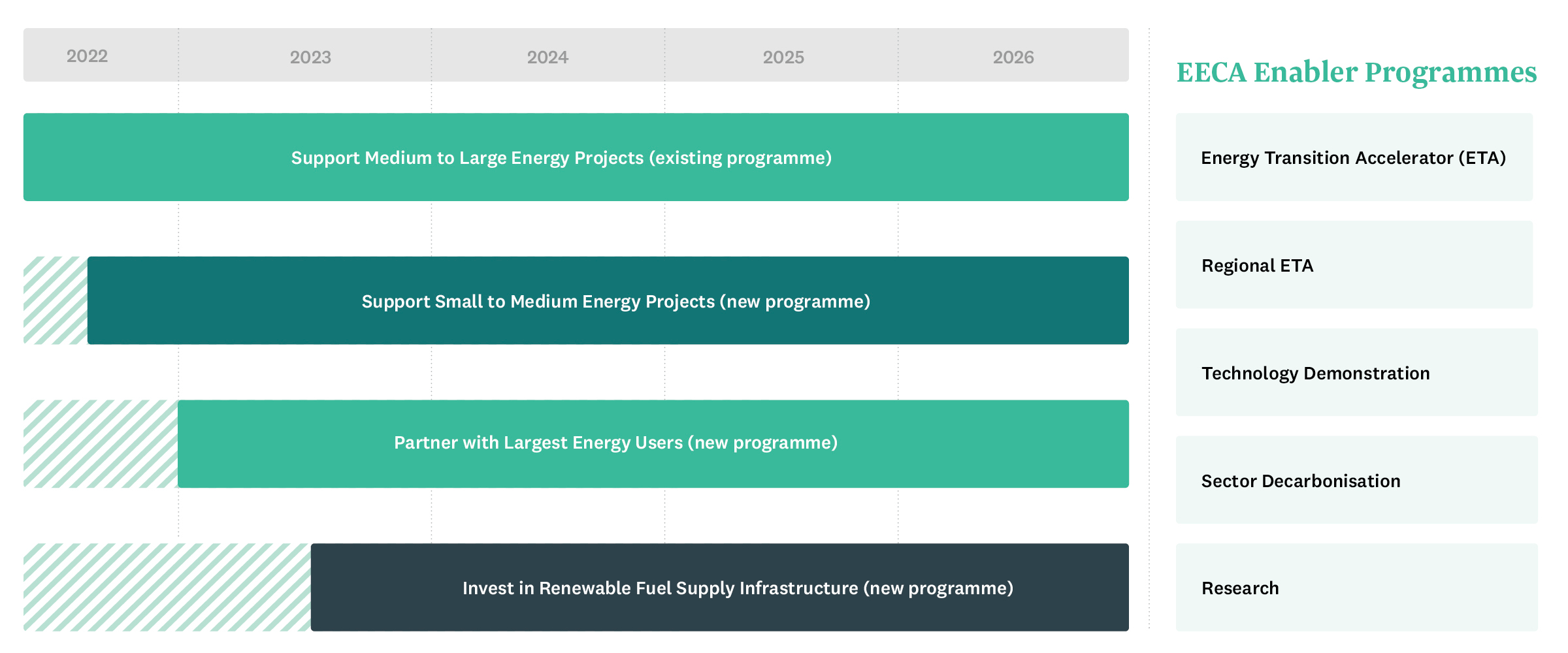 GIDI Process Heat Contestable Fund
Round 5 is open

The RFP for Round 5 of the contestable funding for medium to large energy projects is open. Successful applicants from Round 4 will be announced from December 2022.

Objectives of the GIDI Fund
Accelerating business decarbonisation to support the Government's emissions reduction goals.
Optimising energy use by New Zealand's businesses, easing the transition and helping improve productivity.
Helping achieve a just transition.
The GIDI funding has helped fast-track the process and was the driving force behind the decision to move away from coal.
GIDI Private Finance Pilot
EECA recognises that private finance is a crucial part of the transition and has commenced a Private Finance Pilot with financial providers that aims to:
maximise the reach of GIDI funding available to businesses to help achieve New Zealand's decarbonisation targets
improve visibility to GIDI applicants of finance providers that are available, and have expertise, to help NZ businesses decarbonise, and
mobile the finance sector into mainstreaming sustainable finance and offering competitive rates for decarbonisation projects.
Read the directory of finance providers and learn more about their offerings:
Watch recipients discuss GIDI-funded projects
NZ Sugar: "GIDI will bring forward our project"
Graeme Smith, General Manager, NZ Sugar, highlights why GIDI is crucial for them.
Southern Paprika: "Energy has always been a challenge"
Blair Morris, General Manager, shares Southern Paprika's story.
Read about GIDI-funded projects
Article

From the brink of closure to a bright new future for Bay of Plenty business.

8 December 2021

Article

Switching away from coal will help industry-leading company reduce carbon emissions and save money.

15 December 2021

Article

New Zealand's leading mushroom grower is committed to reducing carbon emissions.

16 November 2021