EECA is not making new financial commitments or entering into contractual arrangements related to the GIDI Fund at this time. Check back for updates.
A partnership between government and industry
Government Investment in Decarbonising Industry (GIDI) Fund supports energy efficiency, and the switch from fossil fuels to cleaner renewable energy sources across the industrial, transport and commercial sectors.
GIDI is part of the government's Climate Emergency Response Fund (CERF) and is funded via proceeds from the Emissions Trading Scheme. A total of $650m ($1b over 7 years) was allocated as part of Budget 2022.
The partnership approach helps by getting decarbonisation projects across the line and happening faster than they otherwise would, delivering larger and earlier emissions reductions. It helps by investing in businesses instead of buying offsets overseas – and by supporting a just transition.
Objectives of the GIDI Fund
Accelerating business decarbonisation to support the Government's emissions reduction goals.
Optimising energy use by New Zealand's businesses, easing the transition and helping improve productivity.
Helping achieve a just transition.
Approved GIDI projects
Our interactive dashboard has been developed to provide a comprehensive view of the approved GIDI: Industrial projects.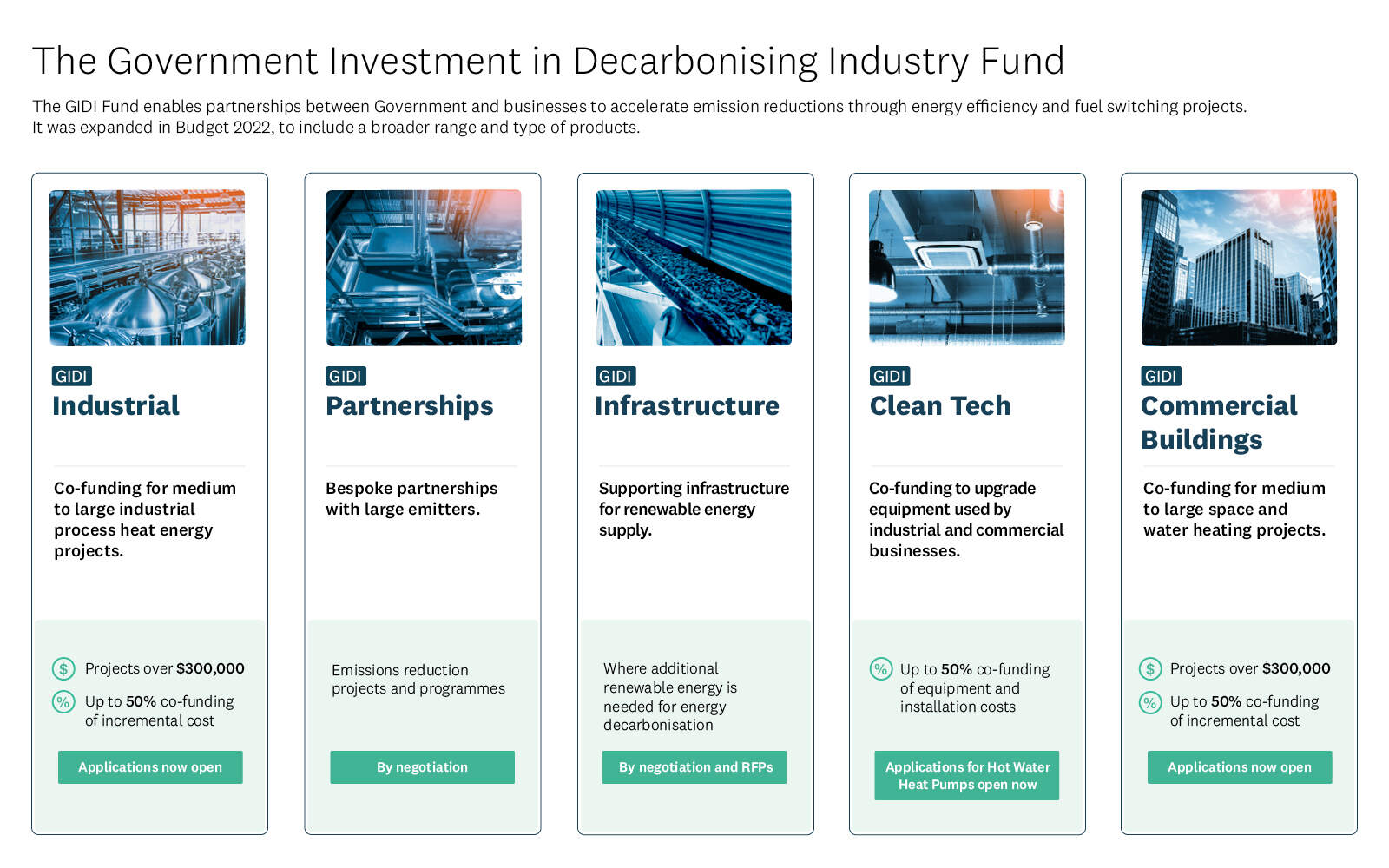 About GIDI: Clean Tech
GIDI: Clean Tech offers help for small to medium businesses in the commercial and industrial sectors with installing and upgrading to off-the shelf, energy-efficient equipment and solutions needed to run a business day-to-day.
We work with approved suppliers and installers who help manage the funding process to make it simple for applicants.
We currently have programmes available for hot water heat pumps, and commercial lighting and electric motor systems are coming soon.
Pilot

programmes
We are currently running GIDI: Clean Tech pilot programmes for the following technologies to get a better understanding of the opportunities and challenges of the market:
If your business is interested in participating in a pilot programme, please contact cleantech@eeca.govt.nz
GIDI: Private Finance
The GIDI: Private Finance scheme connects businesses with green finance providers to streamline and accelerate GIDI co-funding.
NZ Sugar: "GIDI will bring forward our project"
0:28
Graeme Smith, General Manager, NZ Sugar, highlights why GIDI is crucial for them.
Read about GIDI-funded projects
Article

World-first decarbonisation of a New Zealand wool scouring plant.

Co-funding 
Process heat
Decarbonisation

21 July 2022

Article

A Kiwi crop company is looking to lead the way in low-carbon produce, so we can eat our salads knowing they haven't been grown in coal-heated glasshouses.

Co-funding 
Innovation
Decarbonisation

20 July 2022

Article

Switching away from coal will help industry-leading company reduce carbon emissions and save money.

15 December 2021