Founded in 1948, Silver Fern Farms is New Zealand's leading processor, marketer, and exporter of premium quality lamb, beef, and venison. The company produces 30% of all New Zealand lamb, beef, and venison and works in partnership with 16,000 sheep, beef, and deer farmers. At the peak of the season, the company employs 7,000 staff.
Silver Fern Farms' goal is to be the world's most successful and sustainable grass-fed red meat company. It's a bold ambition and includes a commitment to cut its coal use in half within three years and end coal use entirely by the end of the decade.
Silver Fern Farms has joined the International Science Based Targets initiative (SBTi). The company has also achieved Toitū enviromark diamond certification this year, the highest New Zealand-based environmental certification, and a further demonstration of its commitment to continuous improvement across a range of environmental sustainability issues outside of climate change.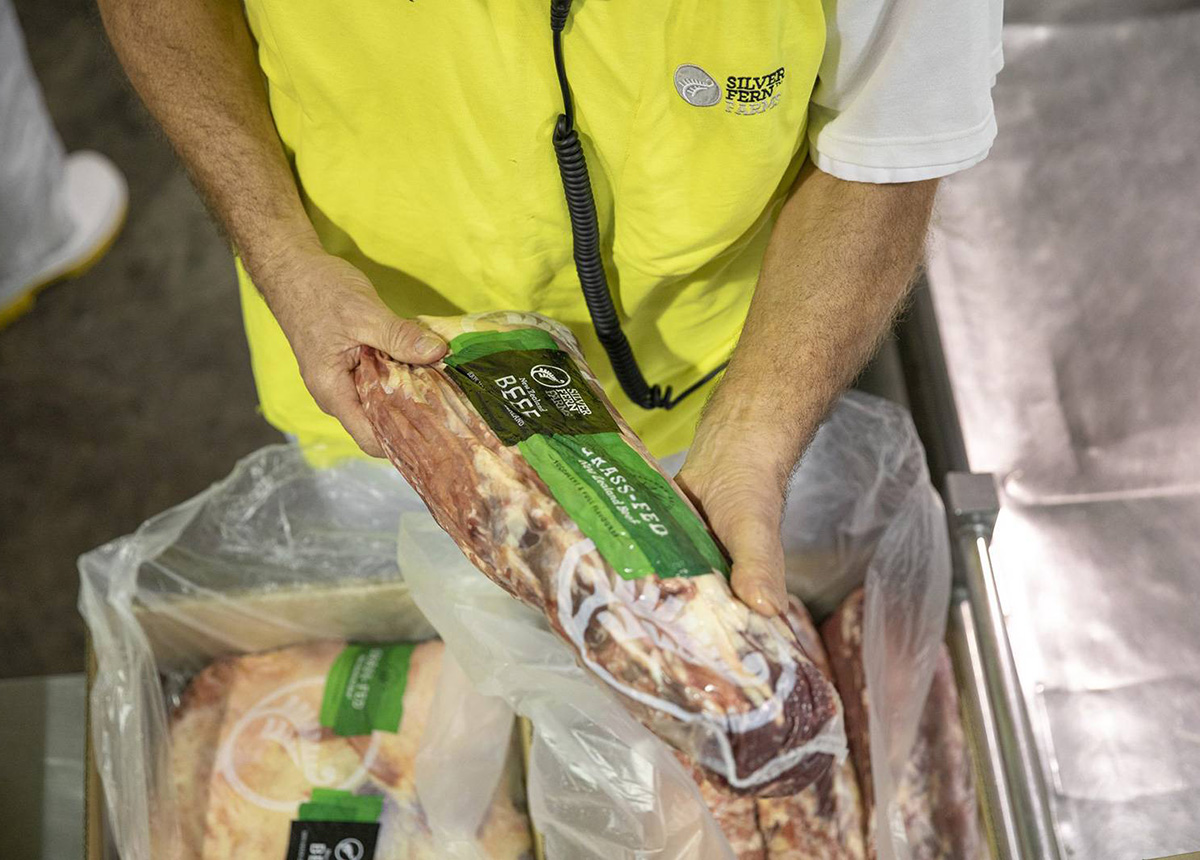 Environmental and financial sense
The company recently received $1 million co-funding from the Government Investment in Decarbonising Industry (GIDI) fund for a $2.6 million project at its Pareora processing site, south of Timaru.
With the support of GIDI co-funding, the company will install a high temperature heat pump to preheat hot water for the processing plant, shifting heating load away from the existing coal boiler. It is the company's third successful project under the GIDI fund.
Silver Fern Farms has previously taken a structured approach to reducing energy and carbon emissions including metering, gap analysis, conservation measures and efficiency gains. The GIDI funding enables the company to accelerate its coal related projects to reduce its carbon footprint in a much shorter time frame.
"The GIDI program offered significant capital co-funding that meant the Pareora project could meet internal payback criteria," says Kate Beddoe, Chief Sustainability and Risk Officer.

"We are absolutely committed to reducing our coal use over time and prior to the co-funding, this particular project was scheduled for five or ten years time, depending on the remaining life in the existing coal fired boilers and availability of capital. The GIDI funding has enabled us to bring the programme forward substantially and given us confidence to proceed."
The role of coal
Coal currently makes up 36% of Silver Fern Farms' total greenhouse gas emissions and 70% of its thermal fuel related emissions. An Energy Transition Accelerator (ETA) study with EECA identified coal fired water heating as the first substantial change to focus on – after basic conservation measures – to help the company achieve its goals to cut emissions.
Silver Fern Farms has committed to a 1.5 degree science aligned target to reduce combined Scope 1 and 2 processing emissions by 42% by 2030 (from a 2020 base year). It has done this by signing up to the International Science Based Targets initiative (SBTi) and domestically through its public commitments and membership of the Climate Leadership Coalition.
Switching away from coal has benefits from a carbon reduction and cost saving point of view.
"The benefits are substantial and include reductions in our coal consumption, the associated reduction in greenhouse gas emissions and cost savings as the heat pump system generates hot water at a lesser running cost than coal boilers, and reduction in remaining water heating loads, opening up a variety of possibilities to achieve the final water heating we need," says Beddoe.
Fuel use in the meat and seafood manufacturing sector in 2020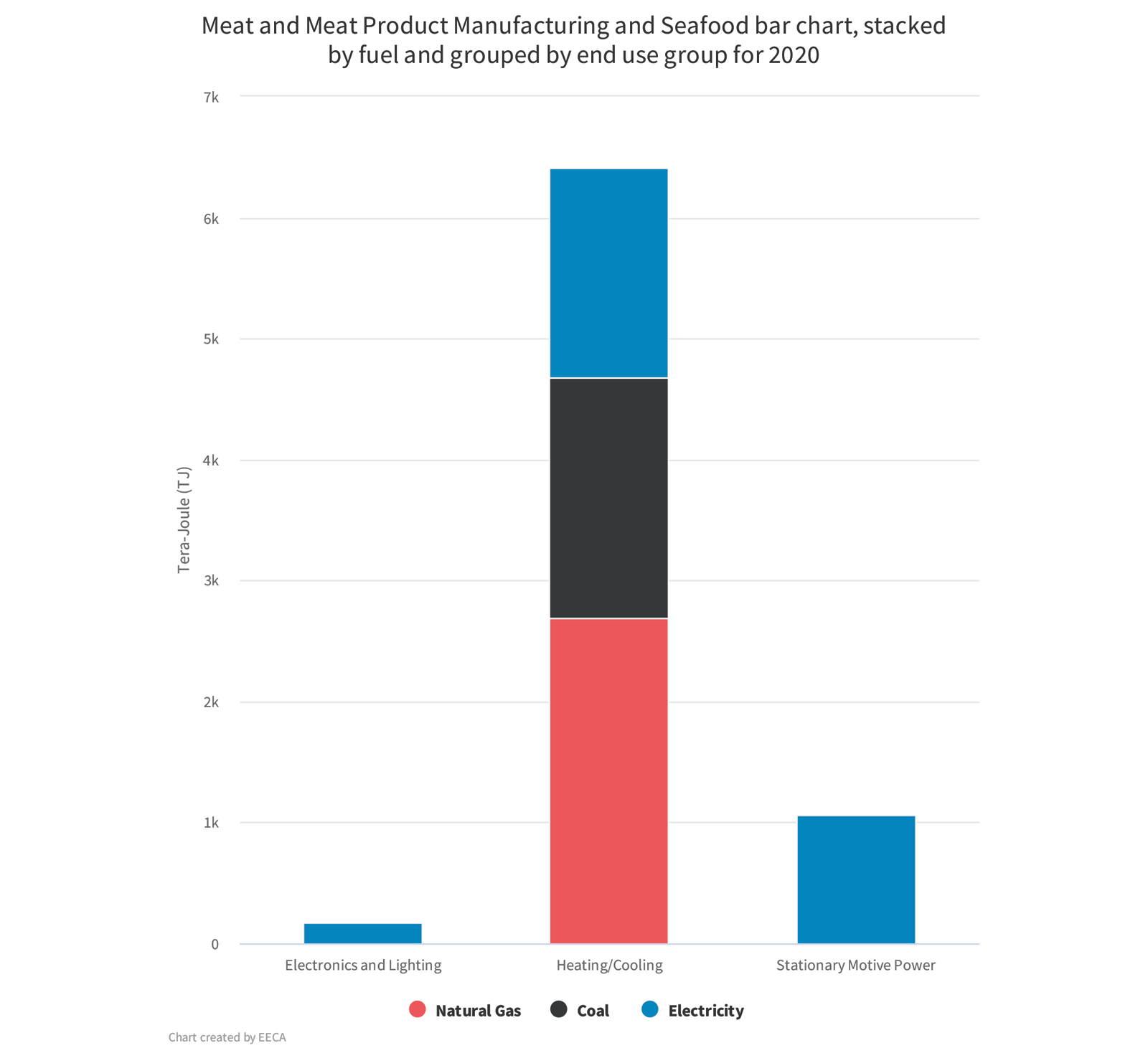 Explore our Energy End Use Database
The heat is on
Hot water is essential in meat processing plants. It's used to sterilise butchers' knives and process equipment, to wash process rooms and equipment, as well as for washing hands, aprons and boots.
Currently all water heating on the Pareora site is provided via steam from three coal boilers. The new system will use surplus heat from the refrigeration system – typically at 25 to 30°C – and elevate the temperature with the heat pump unit to generate hot water at 50 to 75°C.
"The water temperature generated varies depending on the load," says Jeremy Lush, Group Manager Energy. "During the day, with high water use, the temperature generated is lower and the water is topped up with stored hotter water. After hours we can raise the heat pump water outlet temperature to refill the storage tanks. Tanks are critical as the refrigeration load is high overnight, with product freezing, so we need to capture and store that heat as hot water."
The current boiler used 27.3 GWh of coal energy input in 2020 to produce hot water for the site. Using coal to generate this energy produces 8,389 tCO2 of emissions each year compared to the proposed project emissions of 2,813 tCO2 per year – a 66% reduction. The annual net emissions savings from implementing this project are 5,576 tCO2 per annum.
Site works for the Pareora project are planned from early 2022 with the main installation work over the winter of 2022 and the new system fully commissioned by the end of the year.
The 23 projects in GIDI Round 2 co-funding will deliver annual savings of 142,591 tonnes of greenhouse gas emissions, amounting to 2.8 million tonnes over their lifetime. This is the equivalent of taking around 46,000 cars off the road.
Related
Article

Find out which projects have been funded under the Government Investment in Decarbonising Industry Fund.

12 June 2021

Article

Today, the Minister of Energy and Resources Dr Megan Woods announced the 23 projects that will receive government co-investment from Round Two of the $69m Government Investment in Decarbonising Industry (GIDI) Fund.

29 September 2021