Reduce your carbon footprint with a clean energy approach
The Covered Cropping Decarbonisation Pathway provides New Zealand growers with free access to helpful tools and resources, designed specifically for the sector.
These tools and resources have been developed for growers by industry experts and supported by Tomatoes New Zealand and Vegetables New Zealand, to deliver shared knowledge and information to encourage sector-wide decarbonisation.
Decarbonising covered cropping in New Zealand
Covered cropping provides New Zealand with year-round food security — particularly important during winter, when severe weather events are more common and can affect food production.
New Zealand's weather and climate is variable from season to season, which impacts our ability to grow fresh fruit, vegetables, flowers, and fungi. Growing fresh produce in greenhouses means that New Zealanders can get fresh, locally grown food at any time of year, and producers can continue to trade.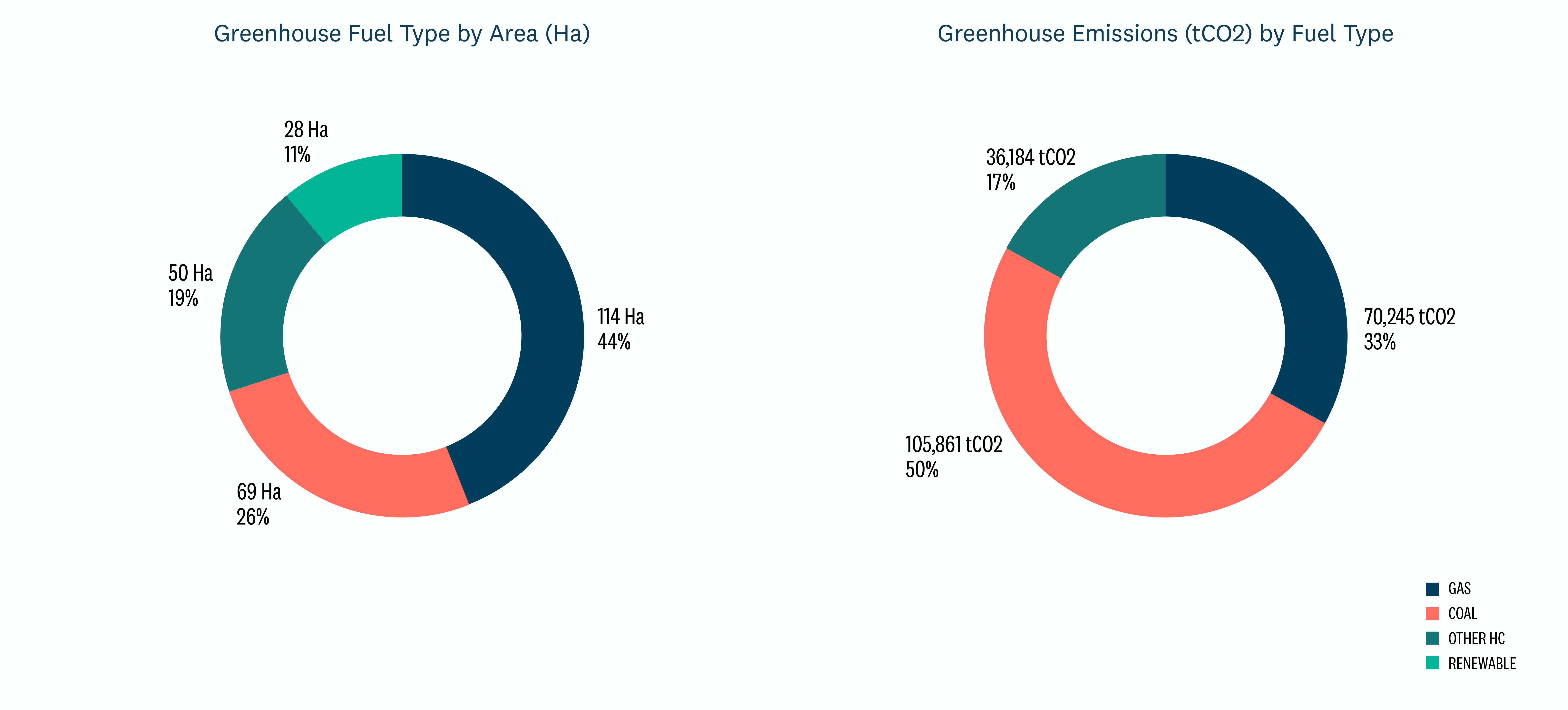 New Zealand's total greenhouse area is estimated to be 310 ha with about 120 ha for tomatoes and 190 ha for other vegetables. Most of New Zealand's fresh tomatoes and all export capsicums are produced from indoor growing.
Most greenhouse growers are based in the North Island, with large and medium growers making up around 85% of the industry. The industry's emissions largely come from coal and gas used to heat the greenhouses in the off-season.
A lot of covered cropping growers are feeling the effects of climate change, with increasingly unpredictable weather and rising fuel costs challenging growers' ability to grow all year round.
Small steps taken by covered cropping growers across New Zealand will help reduce the impact of the industry on the climate, future proof businesses and provide food security for people.
People want to change, they just want to do so when they are confident they can manage or eliminate the risks and know that their business is viable and sustainable beyond that change. In our view, it's a good investment for your business.
Objectives of the pathway
Support growers with reducing energy related emissions at a sector level through tailored tools and resources, endorsed by Horticulture NZ and Vegetables NZ.
Simplify the process of reducing individual business emissions through a five-step pathway and support
Connect New Zealand Covered Cropping operators with world-class innovation and best-practice guidance.
Benefits to growers
Reduce costs

Improving efficiency can reduce the cost of equipment operation and energy and help prepare for the rising cost of high emissions activities under the Emissions Trading Scheme (ETS).

This is a real opportunity for covered cropping growers to take actions to reduce emissions and contribute to New Zealand's low-carbon future as well as potentially reducing operating costs and future-proofing their businesses.

Create value

Improving processes and equipment can lead to an increase in productivity. Decreasing your business's impact on the environment can also drive customer interest.

Further, reducing the demand for fossil fuels offers an opportunity for cost efficiencies.

Future proofing

Collaborative, proactive solutions can reduce competition between businesses for the same services, resources, and opportunities – reducing costs and ensuring business continuity in a low carbon future.

As well as phasing out coal boilers by 2037, the Emissions Reduction Plan 2022 has set a target to produce a Gas Transition Plan by the end of 2023, which will set out a transition pathway from fossil gas. Covered cropping growers can begin to prepare for this transition through implementing changes that reduce their reliance on fossil fuels.
5 step covered cropping decarbonisation pathway
1

Increase engagement and awareness

Understanding the emissions impact of businesses in the covered cropping sector is a key step towards beginning your decarbonisation journey. Having awareness of which processes are carbon intensive can help identify your opportunities. Whilst engaging your staff and including them on the journey is proven to increase results.

2

Measure emissions and set targets

Knowing what to measure and how to measure it is an important step in decarbonising. In this section, find resources and tools to measure and account for energy consumption and see how your business compares to others within the covered cropping sector.

3

Optimise equipment and improve processes

Reviewing and adjusting the way equipment performs can be a big win for energy reduction, as well as cost and productivity.

New technology or upgrades to existing processes can reduce energy demand.

5

Switching to renewable energy

Fuel switching to renewable energy sources is the final step to decarbonising. By following steps 1-4, you'll be in the best position to make an informed decision about fuel switching, in the most cost-effective way.
Tools and resources for New Zealand covered cropping growers
Explore our resources for New Zealand growers and begin your decarbonisation journey.
Read covered cropping case studies
Article

Three indoor cropping business have saved costs and carbon emissions by adopting fresh technologies – thermal screens, dehumidifying heat pumps and LED grow lights

22 July 2021

Article

Marlborough-based herb and salad green growers, Thymebank, have switched from coal to wood waste and nut shells for their glasshouse heating.

Innovation
Decarbonisation

2 November 2022