Managing Director, Mike Murphy, says business has a leadership role to play in changing habits and driving positive change when it comes to sustainability and reducing carbon emissions.
Competition within coffee roasting is growing. Imports of green beans into New Zealand have doubled since 2003 and close to 200 coffee roasters are now providing speciality beans, blends, and brews for consumers across New Zealand.
And with scale, comes impact. In New Zealand, coffee beans are typically imported, but most of the roasting – which is the energy-intensive part of the process happens here. Fossil fuel – typically gas - use for the average batch of beans is responsible for an estimated 80% of process related emissions.
Climate change is an undeniable issue. We all play a part – producers, consumers, and business owners.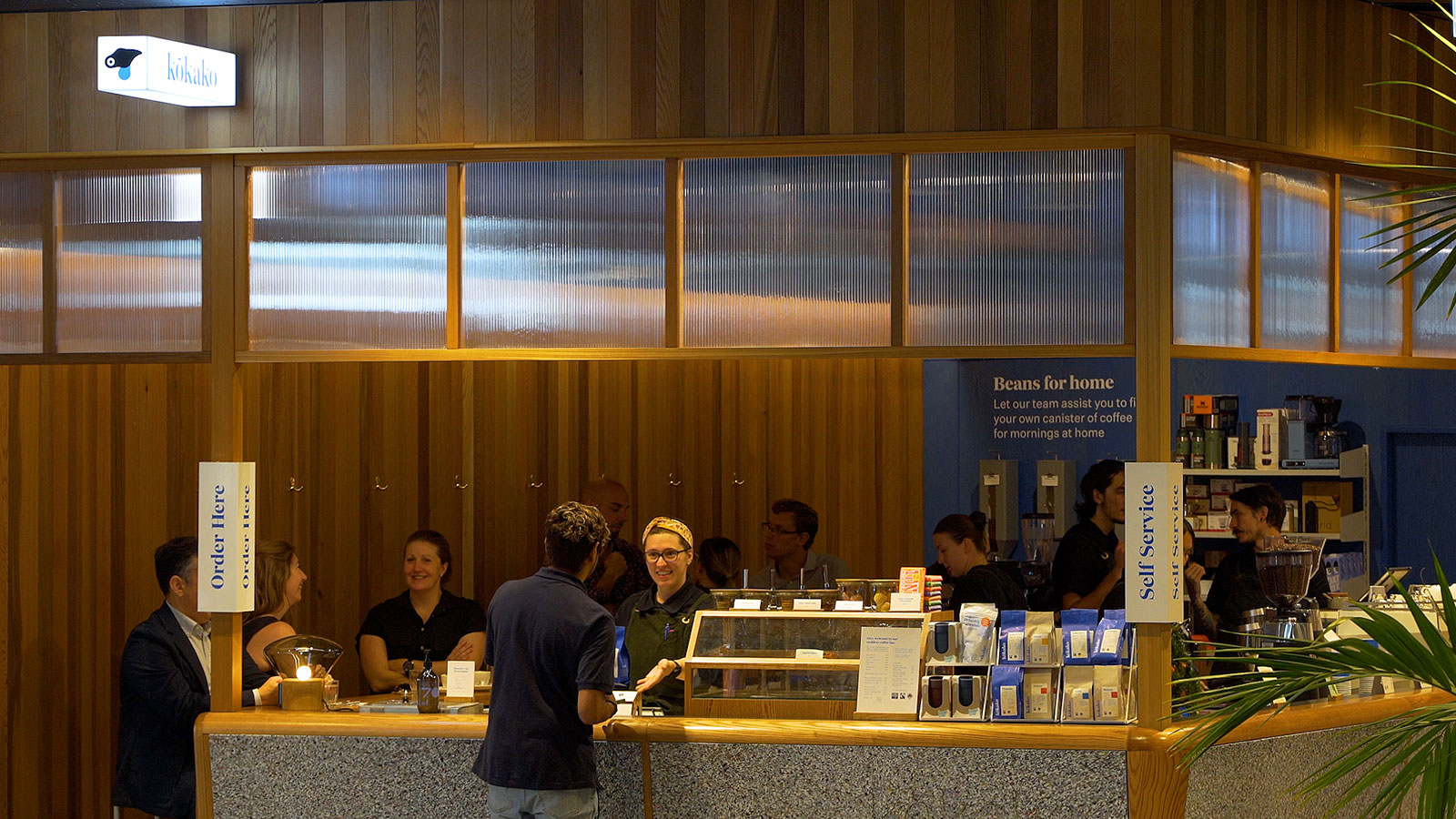 Caffeine hit
Kōkako joined New Zealand's roasting scene in 2001, when the original founders opened a coffee cart in Auckland's Aotea Square.
The business now has two certified organic, fair trade and climate-neutral brands, Kōkako and Everybird. Kōkako – the brand more Kiwis will be familiar with – focuses on the hospitality and café sector and includes a flagship coffee bar in Auckland's Commercial Bay. Everybird is the company's grocery and supermarket brand, which launched in 2022.
Kōkako is certified organic, fair trade and climate neutral. In keeping with the company's sustainability framework, its original coffee bar was made from about 8880 upcycled 2L plastic milk bottles and features a changing menu and Japanese-inspired design.
The team takes inspiration from global trends in the speciality coffee sector and are one of the first roasters in New Zealand to release a cold brew coffee, as well as a limited-edition cascara kombucha in collaboration with Batchwell(external link).
The importance of measuring emissions
Mike says the team have always respected the foundations the business was built on – as an organic roaster. But that despite their efforts, no business is perfect.
"Sustainability and energy efficiency are a constant work in progress and there are so many things we'd like to still do," says Mike.
"There are a few constraints - mostly connected to available capital to make change happen. However, there are simple changes we will continue to make, like optimising our delivery runs so we are not doubling back."
He notes though that when Kōkako started formally measuring their emissions, there were some surprising learnings.
"We assumed that the primary carbon emissions from our supply chain were from us roasting the coffee. But we soon recognised that it is way more complex than that." 
Mike says understanding the carbon produced in the supply chain of your business is the first step.
The team worked with the Fair Climate Fund(external link) to refine and develop a carbon measurement tool in 2015, specifically for the coffee sector.
 "Digging into every aspect of the supply chain empowers organisations – firstly, to understand their impact, and then work with others in the supply chain and industry to affect change."  
"At present we offset 664 tonnes of CO2 based on roasting around 80 tonnes of coffee per year, so we are offsetting approximately 8.5kg of CO2 e per kilo of coffee we produce." 
Kōkako produced its first sustainability report in 2016(external link). Mike says they went in not really knowing what they were doing but getting started was the first step.
"We dumpster dived and recorded the carbon footprint of the coffee we source and roast."
Since then, the team have released a sustainability report every two years, guided by Nick Morrison of Sustainability Consultants Go Well. This has meant Kōkako can report to the Global Reporting Initiative (GRI) standards(external link) – an international independent standards organisation that helps businesses, governments and other organisations understand and communicate their impacts on issues such as climate change, human rights, and sustainability.  
"We like to share our learnings and have done this with our Sustainability reports which are available on our website for anyone to read – if we can inspire others in the coffee and business sector to innovate in these areas, we all win." 
Thinking laterally
Aside from measuring and offsetting the carbon on every kilo of coffee Kōkako has roasted since 2015, Mike says the team has taken a holistic look at the broader efficiencies within the business to reduce energy use.
Some of the changes to reduce the business's carbon footprint include replacing the old fluorescent lights in the warehouse with more energy efficient LEDs.
Following a review of the roasting programme, actual roasting has been reduced from five days to four days to optimise the time the roaster is operating and natural gas usage.
The team transitioned two of their fleet vehicles to hybrids in 2018 and aspire to add an EV van for deliveries in the next 12 to 18 months.
Kōkako also looked closely at suppliers and its procurement strategy, and as a result decided to change electricity provider at both sites.
The team has seen a lot of positives from prioritising decarbonisation and sustainability within the business.
"It is really motivating to see a reduction in operating expenses," says Mike.
"And we've experienced more brand loyalty from our customers. Being open and transparent and having third-party accreditations helps with this." 
Kōkako has made it a priority to harness the power of their staff and attract talented, loyal, and motivated team members who share their values.
"We'd like to explore carbon in-setting, whereby we make changes on the ground in the business to reduce carbon here in New Zealand to complement offsetting against international projects," says Mike.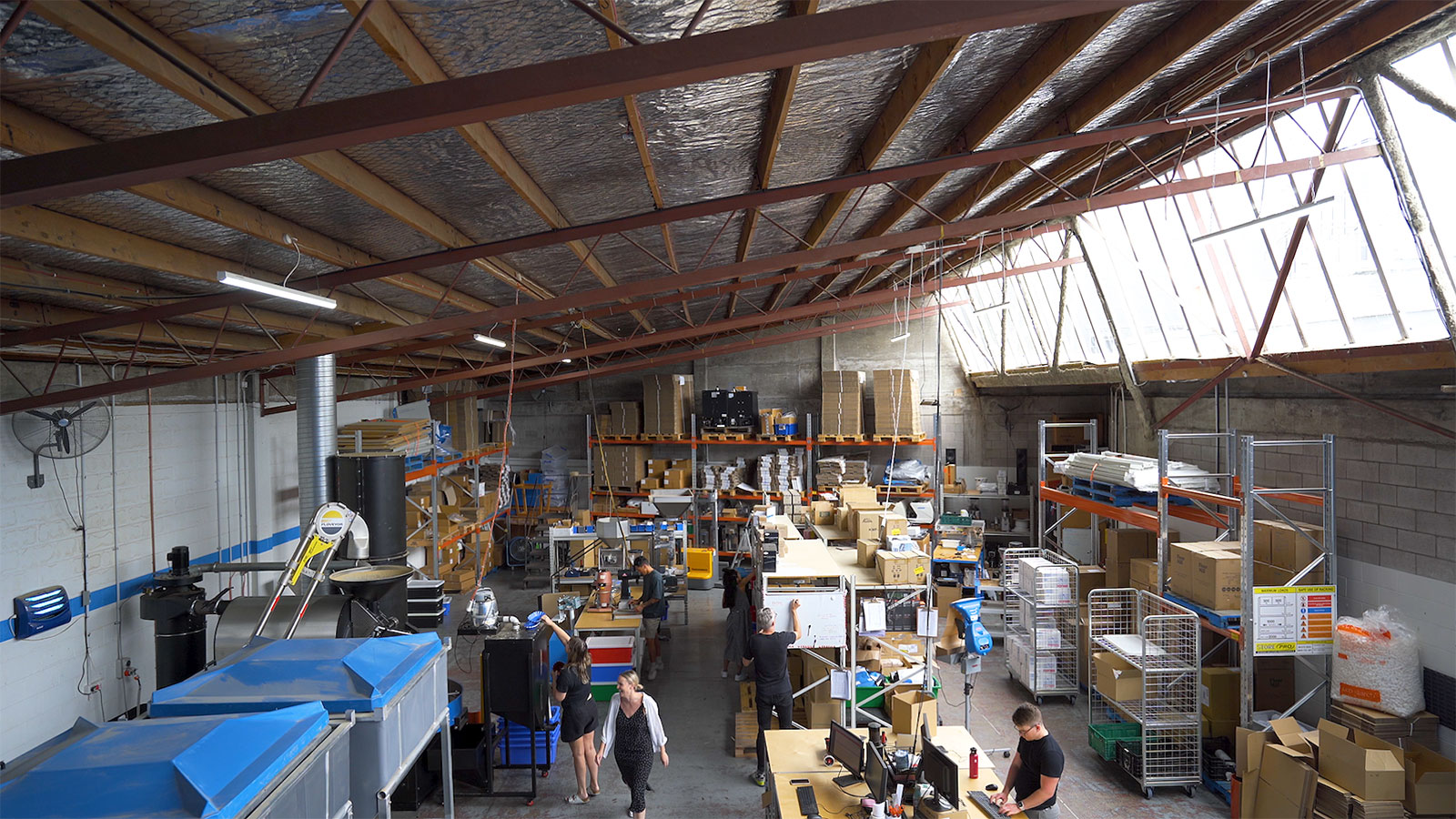 The future of coffee is low carbon
EECA's Coffee Decarbonisation Programme is supporting other New Zealand coffee roasters in their transition to a low emissions business. The pathway is also helping to futureproof against climate change and the challenges that the industry is collectively facing.
By encouraging collaborative, proactive solutions to industry-wide challenges, the Coffee Decarbonisation Pathway aims to take the learnings from other coffee roasters and industries and reduce competition between roasteries for the same services, resource, and opportunities.
"We want to work closer with our industry body the New Zealand Specialty Coffee Association and EECA to drive change and awareness in the NZ coffee sector," says Mike.
"Collaboration is key and New Zealand can be leaders not only in the quality of our coffee but also in how sustainably we produce it."
Mike's advice for businesses on their decarbonisation journey
Ask for help – find out what tools or resources are already available in your sector to measure your impact; there are plenty of business organisations and associations who can help guide you. 
Every business is different – determine what the key carbon emitting parts of your business are and try to be a leader in innovating to do something about it. How can you champion sustainability or energy efficiency in your sector, and empower others to take action?  
Engage with your customers – it's actually a competitive advantage to be on the journey and doing something about it – be honest and transparent with all your stakeholders.  
See it as an investment – there are costs involved in being sustainable and offsetting carbon, but they need to be looked at as an investment for the future rather than a cost. 
Learn more
We're working on our 5 step Coffee Decarbonisation Pathway for New Zealand coffee roasters, to help roasters reduce their energy-related emissions.

Tap into sector-specific knowledge and best practice guidance to decarbonise your business.