How EECA regulates
We regulate energy using products in New Zealand, under the Equipment Energy Efficiency (E3) programme. Through our programme, we ensure New Zealanders have access to the best performing products and vehicles, in line with other countries.
The Regulations are made under the Energy Efficiency and Conservation Act 2000. We collaborate closely with Australia on this work, which means we share the cost of regulation, making it easier and cheaper for businesses trading in both countries to comply. More energy efficient products help to reduce running costs for households and businesses.
More efficient appliances
The energy and carbon savings from the year ending of March 2023 are the result of continuous improvement of the products on the market - removing the worst performing models, and encouraging consumers to buy more energy efficient appliances, that can easily be identified using Energy Rating Labels (Mandatory Energy Performance Labelling).
In 2002, the highest rated washing machines on the market were 4.5 stars and made up less than 1% of total sold, in 2023 the highest rated washing machines were 5 star and make up 11% of total sales.

In 2013 (the first year that televisions were regulated) 15% of televisions sold were 5 stars or greater, in 2023 27% sold are 5 stars or greater.
In 2002, 5% of dishwashers sold were 3.5 stars or greater, in 2023, 75% of dishwashers are 3.5 stars or greater.
Savings achieved
EECA data shows that over 98 million products have been sold under E3 between 2002-2023, which has saved businesses and consumers 94.5 PJ of energy. That's around $2.3 billion of national benefit and 3.5 million tonnes of avoided carbon emissions.
In the year to the end of March 2023, sales of energy efficient products saved New Zealand $39 million over the year. That is 1.6 Petajoules of energy saved this year.
The calculations
EECA calculates the annual energy and cost savings for the year by tracking improvements in the energy efficiency of products through sales and product performance information (based on avoided electricity generation calculated at $0.088 per kWh).
An International Energy Association report also highlighted the positive impacts of product energy efficiency, finding that they save households and businesses around the world billions of dollars and avoid hundreds of millions of tonnes of CO2 emissions each year. Other benefits include employment, innovation, water savings, and air quality improvements.
Achievements of Energy Efficiency Appliance and Equipment Standards and Labelling Programmes(external link)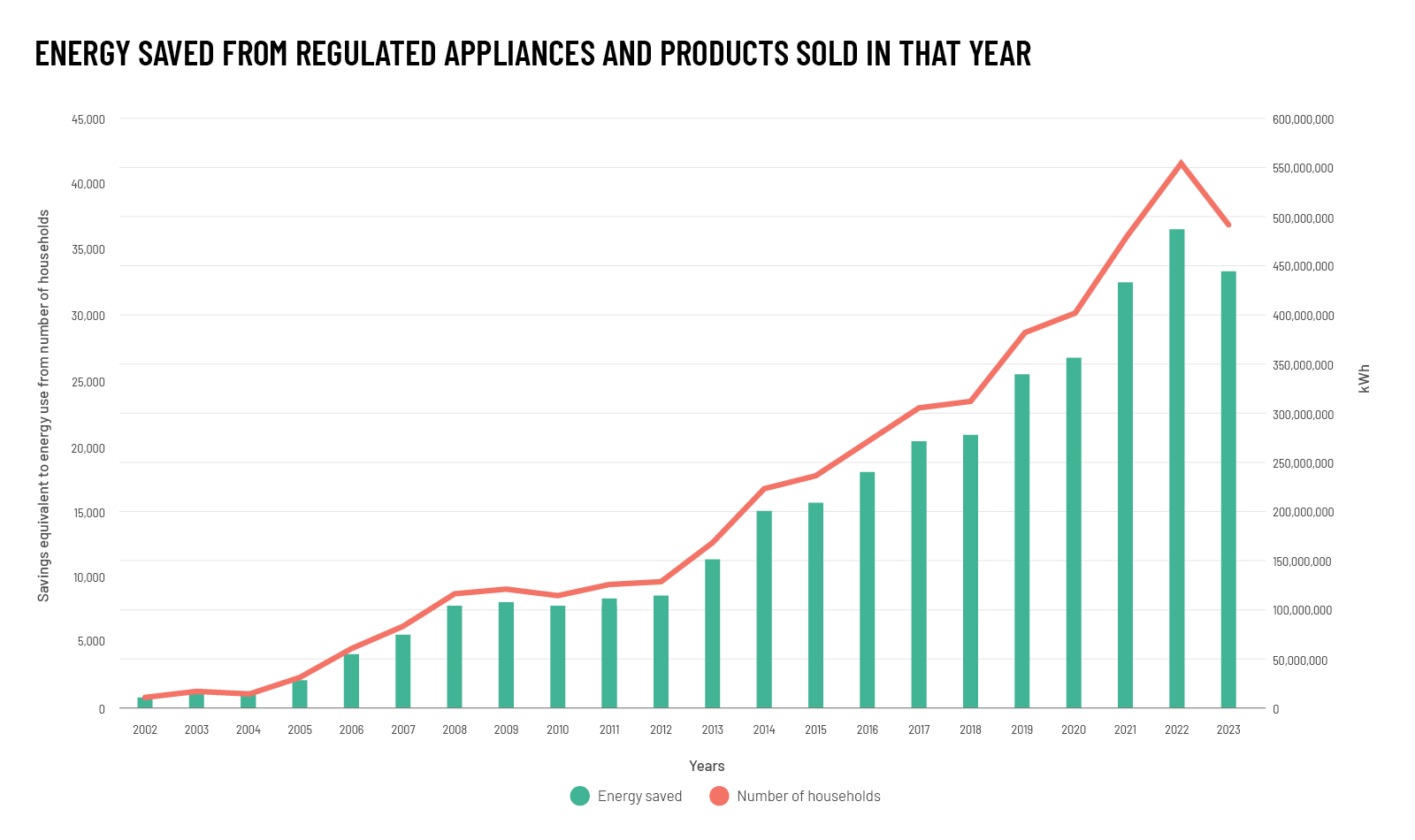 Sales facts
We've seen a reduction in sales for most product categories this year (ending March 2023) – with 15 of the 20 product categories we regulate experiencing a decrease in sales compared to last year. This can be attributed to factors like cost-of-living pressures, a downturn in the consumer market, and lingering supply chain issues.
Despite the reduction in sales – the market continues to move toward more energy efficient products. For example, 45% of the clothes dryers (39,483 units) sold this year were of the heat pump type (which is most efficient). This is an increase of 9% over the market share last year, which was 36%.
Similarly, while we've seen a decrease of 20% in television sales in total, the market share of more efficient models has increased – with the number of more efficient televisions rated 5.5. stars or above increasing to 27%, from 20% last year.
There was a 53% decrease in compact fluorescent lamps sales, and 96% decrease in ballast sales. The changes in lighting product preferences can be attributed to an increase in LED lighting purchases, which are not regulated – and are significantly more efficient. However, there was also a 34% increase in linear fluorescent lamp sales. While uptake of LED technology is driving reduced sales in less efficient lighting, existing linear fluorescent lamp stock is still being phased out of the market, resulting in increased demand while stock is still available.
Finding efficient appliances
Energy rating labels make it easy to compare the efficiency and running costs of similar appliances. The more stars, the more efficient the appliance is compared to a similar product of the same size. 
The Gen Less efficient appliance calculator can help with easy comparison of products with energy rating labels in New Zealand.