Outboard motors are the most common propulsion systems for small- to medium-sized boats. They're an all-in-one unit, containing the engine, propeller, gear box and, normally, the tiller. They're normally petrol-powered – in fact, research from EECA (the Energy Efficiency and Conservation Authority) found that 383 million litres of petrol sold at the pump each year is actually for recreational boaties.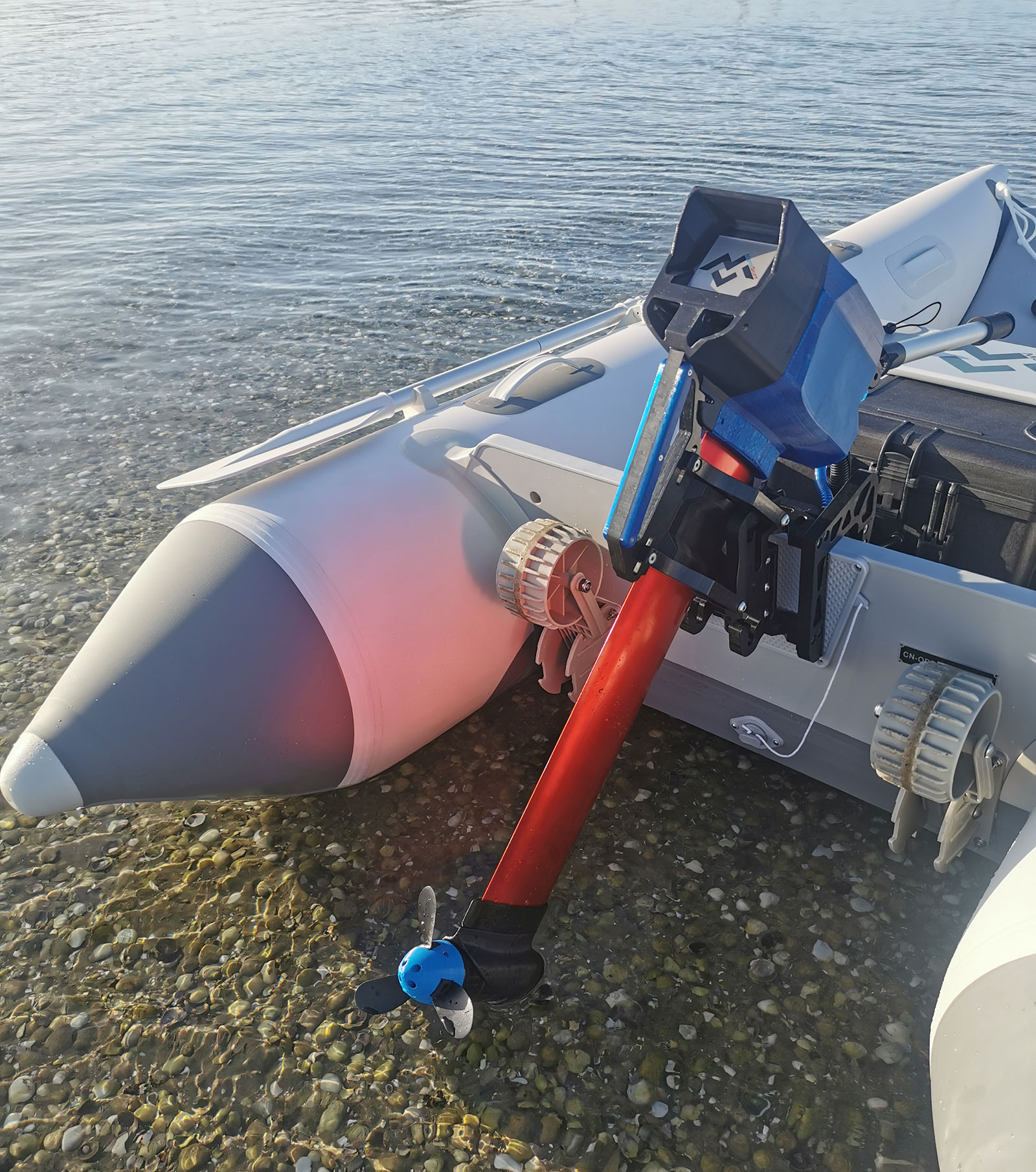 Outboards come in different sizes, but electric outboard motor retailer Motoskiff is focussing on those 15 horsepower or smaller. Motoskiff CEO and Lead Engineer Grant Nelson said they realised options for electric motors under 15hp, which represent 25% of the entire market for propulsion, were few and far between. He says their scan of existing electric outboard motors meant "there would be some kind of sacrifice – either on cost, performance, weight, or something else."
As a result, Motoskiff designed and built 3, 6 and 10hp electric outboard motors (Or "handbag", "briefcase", and "suitcase" size) for use on small watercraft and tenders – they've been used on kayaks, runabouts and "ship to shore" vessels – the small boats that take passengers and crew to and from big yachts and ships that have to drop anchor out from the shore. As Grant puts it, "Almost every big boat has a small boat, and every small boat needs some kind of engine."
The motors are available as part of a pilot for marina owners and boat owners to trial within the Northland and Auckland North areas.
Grant says the real-world feedback from experienced boaties has shown there are advantages to going electric beyond the fuel and emissions saved, they hadn't considered to begin with.
"You would think it would be that they're so quiet, but it's not just that – it's the whole experience. You don't need to start them with a cord [like you start a petrol outboard], you just push a trigger and they go. You don't need to keep throttling on and off, so you have your hands freer. They're not oily, so you can throw them in the boot to transport them without worrying."
Their small size also means there's no need for extra charging infrastructure, as they can be taken inside and plugged in, much like an ebike battery.
It even makes boating more accessible: "My kids hate the noise of petrol engines, but now they'll drive – it's really built their confidence with boating."
Greenhouse gas emissions from the maritime sector in New Zealand amount to 1.5 mega-tonnes of carbon dioxide annually – around 10% of our total transport emissions, or the equivalent of the emissions from half a million cars. Currently, the sector runs almost entirely on fossil fuels, so there's plenty of potential to reduce emissions.
Motoskiff, based at Marsden Cove, Northland, grew out of engineering company Core Technology. They received Low Emissions transport Fund (LETF) co-funding from EECA in 2022 for their project. The latest co-funding round of the LETF is focussed on the maritime sector, to enable more uptake of fuel-efficient and clean marine technology.
EECA Transport GM Richard Briggs says, "This is the first marine project the LETF funded, and it's the perfect example of what the co-funding is for. This is a project that will help de-risk uptake of electric technology for new adopters, and encourage replication as more people experience the benefits. And it's locally made, benefitting the Northland community.
But it goes beyond just the end-users, as other people on and near the water also get the advantages of quiet electric vessels, and a reduction in air and water pollution from fossil fuels.
Grant says LETF co-funding has enabled Core Technology to demonstrate buy-in, and attract further partners.
"We need the right partners to come on this long journey with us, beyond the pilot. We encourage people to contact us who have a keen interest to support clean tech in Northland in this rapidly growing worldwide market in the marine industry."