As New Zealand moves away from fossil fuels, many state sector organisations are transitioning their vehicle fleets to electric. To support this there is a clear need for organisations to install electric vehicle chargers to support staff at work, and increasingly to enable funded charging of dedicated vehicles at home.
Around 51% of New Zealand's energy related emissions come from transport. A key part of EECA's strategy to reduce this is to support the transition of New Zealand's 16,000 government vehicles to low emissions alternatives, and ensure that cars are only used when needed to perform core services in an efficient way.
To support this transition, a mix of home and office vehicle charging is required, to ensure that individual organisations have their specific charging needs met. This may depend on the number of drivers who require dedicated vehicles, where the office is located, whether there is office carparking available, and the cost/practicality of using public chargers during work hours. A fleet optimisation study will often show you can reduce the number of cars in your fleet, an essential step before electrification.
Many organisations have dedicated vehicles for drivers that are required to spend a lot of time in the field or away from a centralised office. For many of these drivers, being able to have a dedicated vehicle is a necessity as it is often required to fill the role of an office. Having chargers at home is a much more practical solution for those drivers, who would otherwise need to use work-based, or public chargers.
There have been two pilot programmes supported by EECA through co-funding for the State sector, to introduce home electric vehicle charging for dedicated vehicles at Waka Kotahi NZ Transport Agency and Kāinga Ora. The purpose of these pilots is to identify and overcome barriers that exist for both organisations and employees during the introduction and installation of the home chargers, reimbursement of energy costs, and ongoing vehicle use. These learnings can also be applied to charging infrastructure projects including private sector fleets, in the future.
"We found that home charging is crucial. A home charger has meant that in most cases drivers haven't needed to spend time within their workday (or adding to their day) charging their vehicle at a public charger." - Leanne Hartshorne, Manager Business Operations Waka Kotahi.
Home charging made smarter
A dedicated smart charger is safe and cost-effective for many organisations. It also gives drivers more flexibility around how they use a vehicle, compared with portable backup chargers or public charging.
Generally, home charging is also a lower emission option. A 'smart' charger can receive a signal from your electricity supplier to charge when there is the least demand on the national electricity grid.
During periods of high demand, electricity becomes more expensive and can require generation from fossil fuels. Shifting demand to off-peak periods prioritises the use of New Zealand's renewable energy sources.
By helping to introduce home EV charging for organisations with dedicated staff vehicles, we are saving energy-related emissions and staff time, while helping to create national residential charging network that is demand flexible and future-proof.
The benefits of home charging
Reduce the reliance drivers have on the public EV charging network, which is still in development.
Freeing up the public charging infrastructure for other road users with EVs.
Adding to New Zealand's smart home charging network.
Increasing the efficiency of the charging (without changing how vehicles are used).
Enabling easy and carefree reimbursement for both organisations and staff (further information on this below).
Shift the charging of vehicles to periods of off-peak electricity, reducing costs and emissions.
Supports the move away from car parks at work (valuable real-estate).
"I've been really impressed by the distances that I'm able to travel between charges, which does require a bit more forward planning on long trips. I like to make sure I've always got a couple of hundred kilometres up my sleeve and that I have a Plan B when using public chargers, just in case." Daryl, Kāinga Ora.
In the Waka Kotahi project, it was found that the vehicles had enough range (around 450km) to complete a full day's work most the time, after which the driver can come home and 'set and forget' their EV to charge overnight.
Project snapshot - Waka Kotahi
At Waka Kotahi, many staff require daily travel around neighbourhoods, towns and cities and across the country, to meet with communities and stakeholders face-to-face and undertake their roles and responsibilities.
Waka Kotahi has 166 vehicles: 78 battery electric, and 88 petrol or diesel (as at 31 August 2022). Electrification of the fleet began in 2018, and they estimate 90% of fleet will be electric by 30 June 2025
The fleet is made up of two different vehicle types:

Pool vehicles –available for all staff to use and are kept at corporate offices.
Dedicated vehicles –provided to individual staff members/roles and kept at their home.

Waka Kotahi has over 70 office-based chargers. This pilot project installed an additional 11 home chargers.
The average cost per kms travelled during the pilot period was $0.03.
Eleven drivers were included in the EV home charger pilot.
This is estimated to reduce carbon emissions by 38 Tonnes annually.
EECA supported this project with co-funding of $20,585, the remaining costs were covered by Waka Kotahi.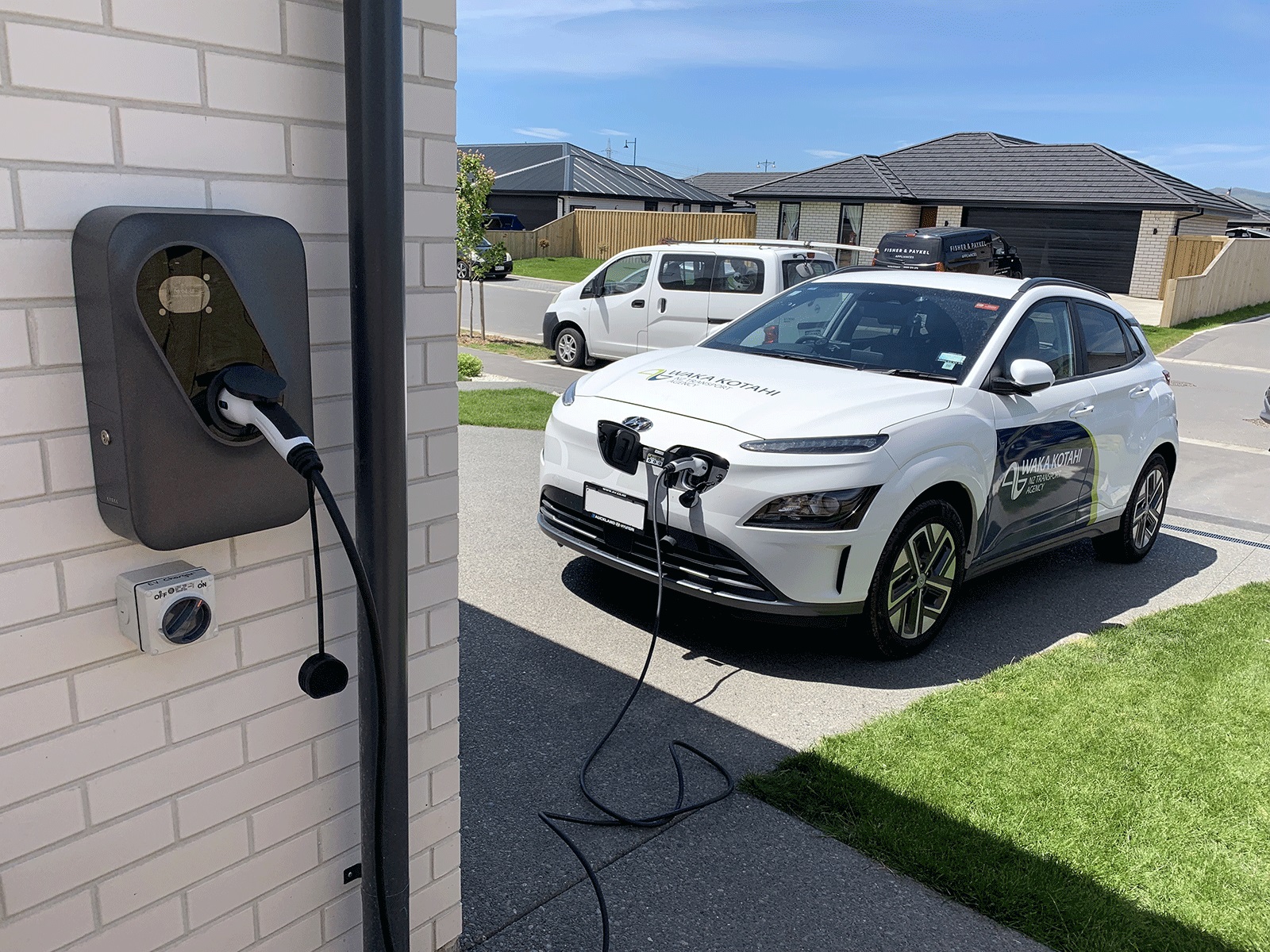 Project Snapshot Kāinga Ora
At Kāinga Ora, the majority of the fleet vehicles are used for staff visits to customers' homes, which involves a lot of driving in and around local communities, across the whole of New Zealand. They also use vehicles to get to new and ongoing housing developments throughout the building process.
Kāinga Ora began transitioning their fleet to EV's in Nov 2021. As of 1 October 2022, 15% of the total fleet was electric.
The fleet is made up of 900 vehicles (spread across 47 offices): 140 battery electric, and 760 Hybrid, petrol or diesel.
Around 86% of the Kāinga Ora corporate vehicle fleet is made up of dedicated vehicles, which reside at staff's private residences.
This project transitioned 37 vehicles to electric and installed 33 home chargers.
The average cost per kms travelled during Kāinga Ora's pilot period was $0.068.
37 drivers were included in the EV home charger pilot.
This is estimated to reduce carbon emissions by 69.3 Tonnes annually.
EECA supported this project with co-funding of $3.787M as part of project to purchase 141 battery electric vehicles and associated charging infrastructure, the remaining costs were covered by Kāinga Ora.
Choosing the right charging supplier
When determining a supplier for home EV chargers, there are important questions to ask.
Do they undertake home power assessments and electrical installation of the chargers?
Do they supply the smart chargers, and software to enable monitoring and reporting of the chargers?
Do they conduct periodic electric assessments?
Can they complete repairs and maintenance of the home charger unit and cabling?
Do they provide ongoing customer service support for the charger user?
The cost of chargers may vary depending on supplier, and the unique requirements for installation at specific sites, for accurate cost estimates, a supplier should be contacted directly.
Both Waka Kotahi and Kāinga Ora contracted Thundergrid as their EV charger supplier. For a full list of providers, view our Fleet Transition Programme Partners Panel.
Fleet Transition Programme Partners Panel(external link)
Eligible homes
Smart home EV chargers are suitable for many homes – urban or rural, stand-alone or a complex, with an indoor garage or carport. The charging supplier will need to ensure that the site meets WorkSafe standards and has sufficient load capacity.
A home may not be suitable for home charging of work vehicles if the home has on-street parking, or it needs significant upgrades to wiring or switchboards, or earthworks. You may also want to consider whether the home is rented or owned, and whether the driver intends on moving soon.
Both Kāinga Ora and Waka Kotahi completed initial surveys with staff who were interested in taking part in the trial to ensure that there were no 'surprises' at the time of the charger installation. The surveys determined key information including:
The property type and age of the home
Where the charger would be placed
If there is off-street parking
Whether the home is rented or owned.
Charger installation
Smart chargers need to be installed safely by an electrician, who can determine whether a separate load guard sensor needs to be installed into the home's fuse board. This can ensure that the power supply to the EV does not put pressure on the home's power supply or fuse board - avoiding power fuse trips and costly electrical upgrades.
Following installation, there should be ongoing communication between the organisation and the drivers to ensure that everything is working properly, and to monitor how the vehicles are being used.
Combining the feedback from the drivers with the collected data from the EV and smart charger is crucial to ensuring success of the project. This information can inform reimbursement methods, future improvements, how to meet the needs of individual drivers as well as ensuring their safety and wellbeing.
Charger type
Waka Kotahi installed the Etrel INCH AC Mode 3 smart charger into the homes of participating drivers. This model:
Provides up to 7.4kW of charging power to homes on single phase power
Provides up to 22kW of charging power to homes with three phase power
Includes open protocol software and can be integrated into any smart home.
Costs and reimbursement
The cost of setting up a home charger network for employees could include:
Supplier set up
Pre-inspection site visits
Charger hardware, installation, and cabling
Additional items (e.g. longer cabling, asbestos removal for the power board, additional antenna).
Ongoing energy costs per kilometre travelled vary depending on the type of vehicle, charger, and reimbursement rate. In general, EVs have a cheaper energy cost than new, highly efficient internal combustion engine vehicles, which cost around $0.135 per km.1
There are several options for how to reimburse staff for energy costs associated with charging their work vehicle at home. It's important to involve payroll and finance teams within an organisation to ensure the most viable option is agreed.
Waka Kotahi determined that a fortnightly allowance was initially the most appropriate process for their staff. The allowance was calculated from the anticipated distance travelled by each driver and estimates of energy consumption per kilometre. After three months of actual energy data collection, Waka Kotahi adjusted their approach to provide reimbursement based on the actual energy used.
At Kāinga Ora, the reimbursement process was slightly different – involving direct reimbursement from the internal finance system for total energy used, monitored by their smart charger.
The smart charger records the amount of electricity used in kWh per month, and communicates this to the charger supplier (Thundergrid). Each month, drivers are issued with a statement of usage, which they can submit to claim reimbursement.
Drivers receive payment once processed, as they would with any other expense claim. Their highest electricity rate recorded from their submitted electricity bill is used as the reimbursement rate.
Lessons for other organisations
The two pilot programmes demonstrate the potential barriers and challenges associated with home charging of dedicated EV work vehicles, and provide insight into how these barriers may be overcome for other organisations.
Agencies eligible for government support
EECA administers a $220 million Government fund to reduce carbon emissions in the State sector. Around 35 fleet electrification projects have been co-funded through the State Sector Decarbonisation Fund – introducing more than 1066 electric vehicles (EVs) and supporting vehicle charger installation.
Home charging is well suited to organisations that have an electric vehicle fleet, with dedicated drivers that keep vehicles at their place of residence. Funding is available to ministries, departments, health, other Crown agents and entities, and Crown Research Institutes.
While government organisations may have funding available to upgrade and vehicles with newer models, this isn't always sufficient to make the switch to EVs. The State Sector Decarbonisation Fund aims to bridge this financial gap, so that the most efficient, low-emission option can be used.
Ensuring the safety of home chargers
Safety is a key consideration when deciding to purchase or install a smart EV charger. They must be installed by an accredited electrician, who will ensure all safety requirements are met. Safety considerations should be factored into the criteria for homes that have EV chargers installed.
WorkSafe Energy Safety has detailed guidelines on the safe charging of an EV in a domestic environment.
Guidelines for safe electric vehicle charging | WorkSafe(external link)
Best practice guidance for energy efficient and smart charging.

The Government aims to make the public sector carbon neutral from 2025.