Every year, KiwiRail moves more than 18 million tonnes of freight around the country, with around 70 percent fewer emissions than heavy road freight.
KiwiRail sees itself as having an important role to play in New Zealand's transition to a low emissions future and helping New Zealand meet its climate change targets.
KiwiRail Group General Manager Strategy and Growth Usman Pervaiz says, "We aim to build on our natural advantage as a low emissions transport option for our customers and continue with initiatives to further reduce energy usage across our operations."
EECA has worked with KiwiRail since 2016 to identify innovative opportunities to reduce their energy use.
All organisations have the same challenge. Where to start, and how to engage their staff to take their projects forward. This is where EECA can help.
EECA and KiwiRail's partnership led to the setting of an energy and carbon reduction target, the establishment of KiwiRail's Carbon Zero Programme and Energy Management Plan.
One of the pillars of KiwiRail's Carbon Zero Programme is the Driver Advisory System (DAS).
"GPS for trains"
Paul Low is a KiwiRail Locomotive Engineer, "also known as a train driver". He explains the DAS unit in his locomotive, which looks like a GPS display. "Whereas GPS tells you to turn left or right, the DAS tells us to accelerate or slow down, and take into account terrain so we can drive our trains more efficiently."
This small bit of kit has contributed to a 13.5 per cent reduction in fuel use to date. This initiative and other energy efficiency improvements across our business have contributed to a total energy cost saving of over $2.8m every year.
KiwiRail's Business Transformation Manager Soren Low says the DAS is a success for the entire business. "Ultimately the success of the project came down to our asset servicing teams and locomotive engineers buying into and using the new processes and technology. Having people in the frontline that are committed to the outcome, along with a team of practising locomotive engineers who 'walk the talk' delivering the training, was a significant influence on our success."
All aboard
Robin Simmons, KiwiRail's Operations Improvement Manager – Sustainability says, "We never would have been able to get this across the line without working with our union (the Rail and Maritime Transport Union), senior management support, plus our support from EECA."

Mr Pervaiz agrees. "We could not have achieved this without partnership with the Rail and Maritime Transport Union (RMTU) who represent the drivers. RMTU were onboard and supportive from the beginning – and they recognise the importance of delivering on KiwiRail's and the Government's climate change targets."
Along with the clear carbon and cost-saving benefits, DAS delivers significant co-benefits, including better safety, reduced wear and tear on the brakes and therefore lower maintenance costs.
It has meant that engineers needed to adjust to a new way of operating their locomotives says Mr Pervaiz. "It was still challenging though – without good leadership and direction we would struggle to be where we are today."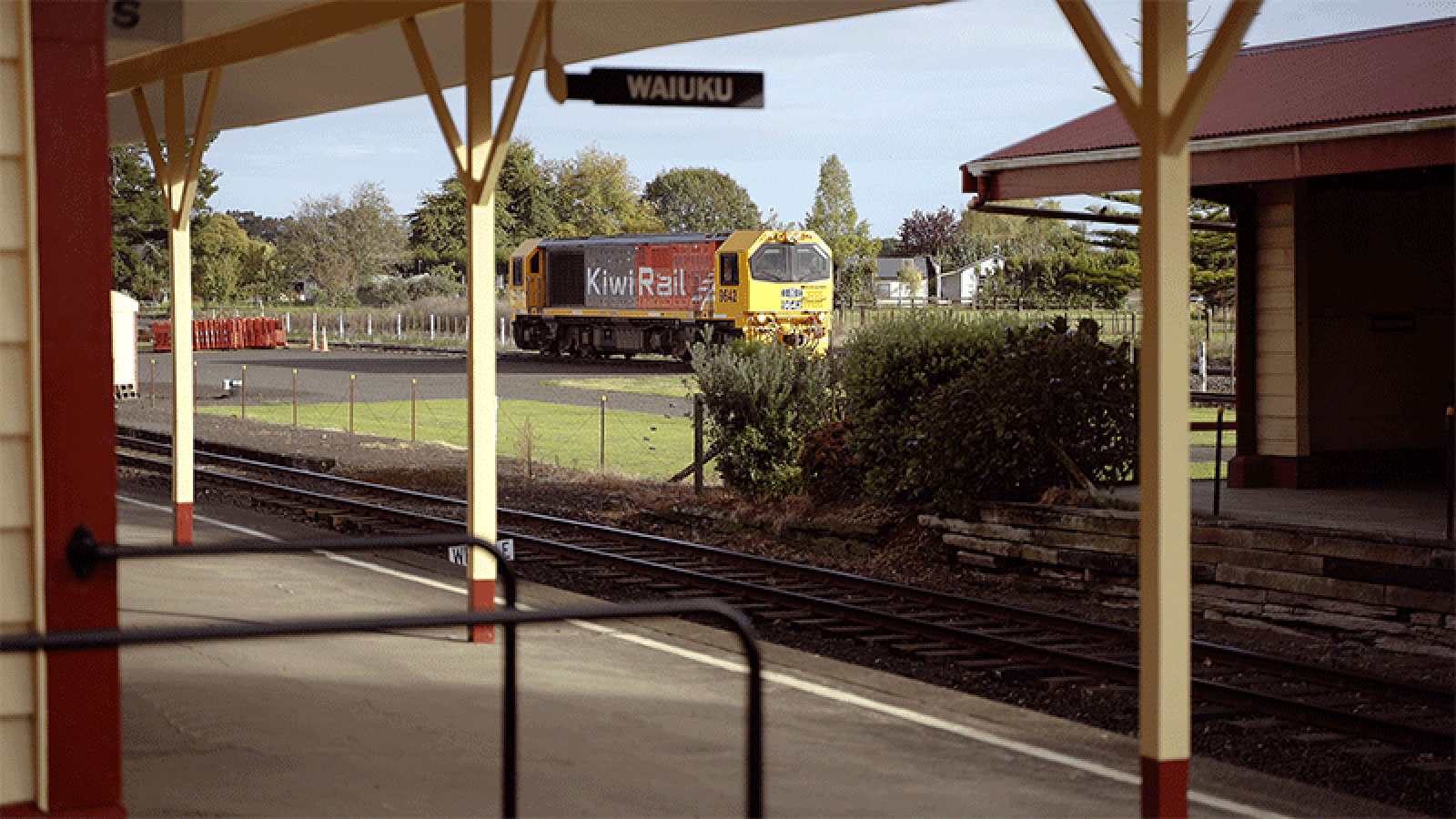 Choosing freight options?
For businesses needing to move goods around the country, KiwiRail helps its freight customers quantify the emissions benefits of choosing rail over road through a monthly 'Steel Wheels' report.
The report illustrates the carbon reduction achieved using rail and includes information on fuel savings and the number of truck trips their movements on rail have avoided.
This information supports customers in telling their own sustainability story on how they are taking action to address climate change by choosing rail.
Steel Wheels(external link) shows that in FY20, KiwiRail transported more than 18 million tonnes of freight, which equates to taking more than 1 million truck trips off the road, avoiding over 236,000 tonnes of CO2e emissions.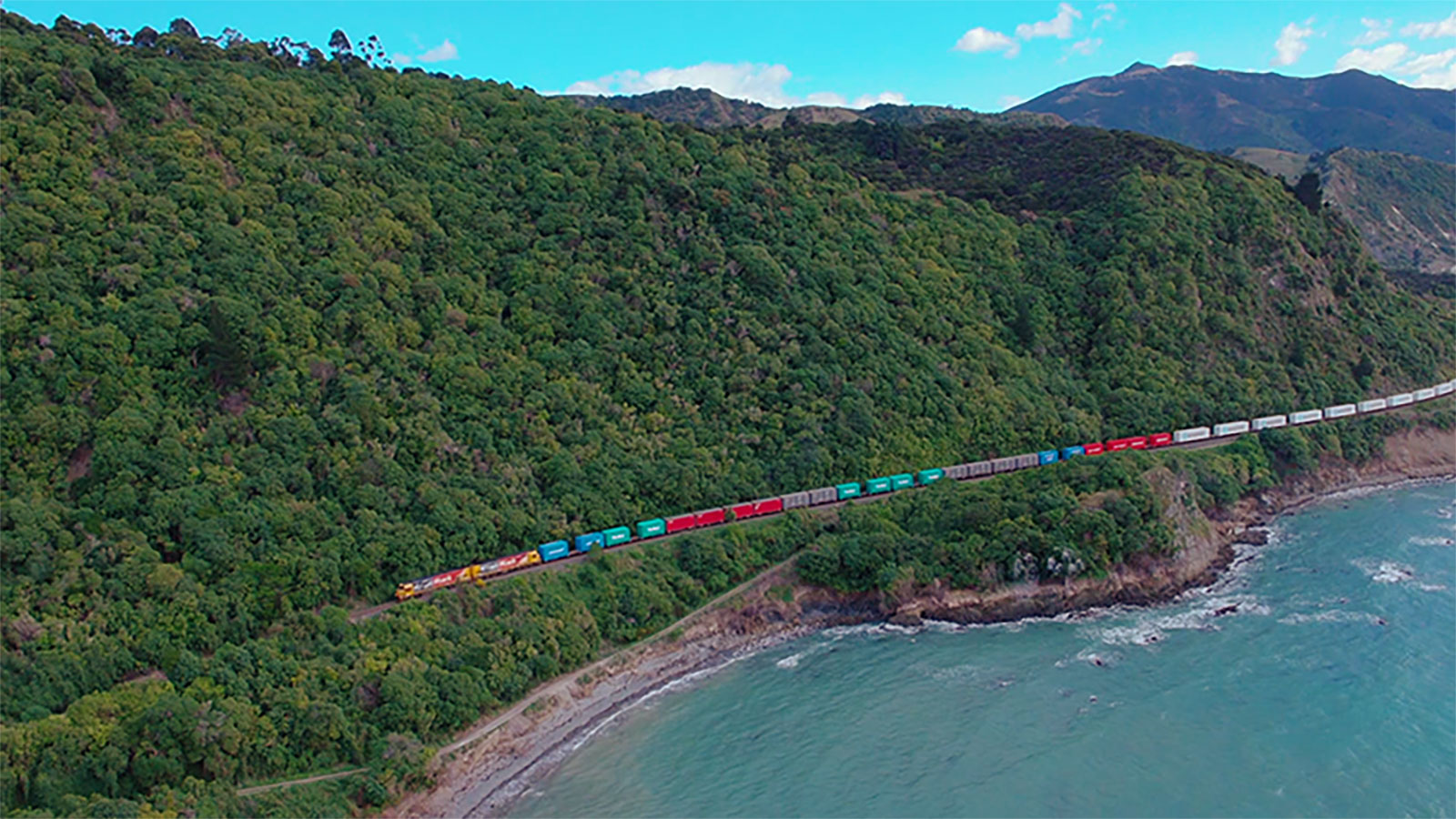 Next stops for KiwiRail?
Mr Pervaiz says new technology coming into the rail freight arena is promising. "The prospect of true low/zero-emissions propulsion systems for trains, and more particularly freight locomotives, is an exciting one that KiwiRail continues to monitor closely."
And it's not just trains – the Cook Strait crossing will soon be more carbon efficient. "The introduction of two new diesel-electric hybrid rail-capable ferries mid-decade will have a big impact on KiwiRail's carbon footprint and support our goal to reduce carbon emissions by 30 per cent by 2030," Mr Pervaiz says. "The two new, rail-enabled ferries are expected to reduce the Interislander's emissions by about 40 per cent once the old ferries are phased out."