Benefits for Southland
A Southland specific decarbonisation pathway will enable:
Optimal use of capital through information sharing and collaboration.
Demand (or critical mass) for fuel suppliers/technology providers to provide the confidence for fast-tracking the development of new supply chains or capacity building initiatives.
working with other local organisations to fast-track implementation.
Opportunity for joint procurement of low-emissions technologies.
Local innovation and new thinking.
About Southland RETA
A total of 40 sites are covered by the Southland RETA. These sites either have boilers larger than 500kW or are sites for which EECA has detailed information about their decarbonisation pathway. Together, they collectively consume 1,518GWh/5,460TJ of energy, primarily in the form of coal, and currently produce 519kt pa of greenhouse gas emissions.
The Southland RETA aims to eliminate as much of these process heat emissions as possible.
The main focus of the Southland report – the culmination of phase one of the RETA programme, is the fuel switching decision. Both biomass and electricity are considered as potential fuel sources.
It also recognises the importance of efficient demand reduction and thermal efficiency measures for reducing energy consumption and right-sizing the boiler investment, which in turn affects decision-making around fuel switching.
The report has illustrated a range of decarbonisation pathways, all of which demonstrate how the combined decisions of a range of process heat users may lead to common infrastructure challenges and opportunities from a supply perspective.
All pathways eliminate nearly 90% of process heat emissions in the region (a reduction of 464kt out of a total 520kT), but at a significantly different pace.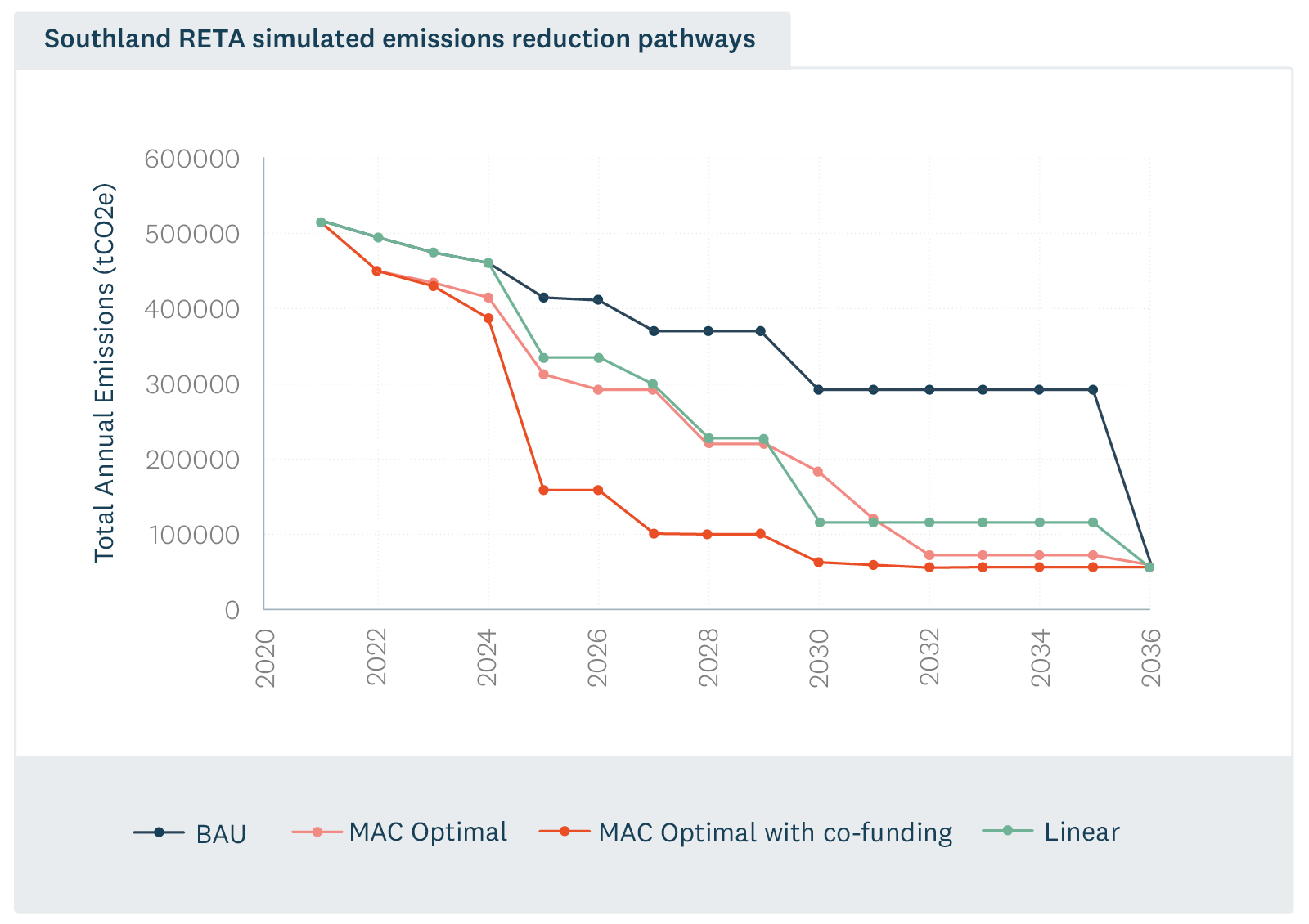 Insights explored in the Southland report
The role of the institution in coordination – particularly for biomass or network infrastructure.
The need for improved information flow between RETA process heat users and biomass and electricity network owners and its role in good decision making.
Timeframes for decarbonisation under different pathway scenarios, ie:
The "BAU" decarbonisation pathway, which uses the project timings in the Individual ETAs (or 2036 where unavailable), is the slowest decarbonisation path. Around half the emissions reductions are assumed to occur in 2036.
The "MAC Optimal" decarbonisation pathway with acceleration co-funding doubles the pace of decarbonisation, with 70% of the decarbonisation occurring by the end of 2025.
The considerable potential of biomass as part of the local mix – a sustainable and genuinely low-emission source of bioenergy. Further, the work to be done to meet requirements and accelerate harvesting of full potential residues in Southland's forests.
The sizing of electricity, given that while electricity has a more established delivery infrastructure in many situations it is not ready to accommodate more significant electrification projects and maintain security of supply.
The application of fuel flexibility - a theme in the consumption of electricity and assessment of the costs of both electricity network upgrades is the ability of a site to leverage its ability to temporarily reduce or shift demand (potentially at short notice).
The role of tariffs offered to process heat users to incentivise the right behaviour.
The Southland RETA has highlighted the importance of partnerships. This is really fertile ground and a period of significant transformation. People are engaged and we are experiencing unprecedented demand for renewable energy in the region.
Next steps and support
Where decarbonisation is economic, we encourage organisations to explore the potential for acceleration. We encourage process heat users to enquire about government co-funding to help overcome an investment hurdle.
EECA and Great South are very happy to hear from supply side stakeholders to support the implementation of recommendations in the Southland RETA report.
Check back for more information on RETA focused webinars.
Email RETA@eeca.govt.nz with any questions.
Wayfinder
Co-funding opportunities

Explore other regions